Our best smartphone list brings you 15 of the best phones available right now, but if you already have your mobile OS alliance set you'll want to check out either our ranking of the best Android phone or best iPhone.
If what's on offer in our best smartphone list is a little too pricey for your taste, then don't fear, as we've also got a list of the best cheap phones available right now.
And if you'e not ready just yet to pick up a new mobile, it could be worth holding out. Samsung just announced the Galaxy Note 10 – we've yet to review it, so we haven't included it in this list – and we're expecting to see the new iPhone 11, iPhone 11R, Huawei Mate 30 Pro, OnePlus 7T, Google Pixel 4 and more in the coming months. 
All of these are potential contenders to work their way into our best smartphone ranking later in the year.
We've already seen a huge number of top smartphone launches this year, which means our best smartphone list has seen plenty of new entrants over recent months. 
The Samsung Galaxy S10 Plus is still the best smartphone available right now.
It's a big phone that's designed for big hands – and it takes the very best of what's on the smartphone market and puts it together in a compelling package that we've loved testing.
Screen: The Super AMOLED 6.4-inch display has been measured as the very best around, with super colours, great dynamic range and, essentially, the very best viewing experience you can have on a mobile phone. 
Plus, there's a fingerprint scanner embedded in the display.
Battery life: The battery life on the Galaxy S10 Plus is and improvement over the S9 Plus, thanks to the larger 4,100mAh battery inside. It'll easily reach bedtime with double digits still left in the tank.
The S10 Plus also offers Samsung's new Wireless PowerShare, allowing you to wirelessly charge other devices on the rear of the handset.
Camera: The trio of cameras on the Galaxy S10 Plus are among the best on the market, building on the excellent setup on the S9 series by offering more features, shooting modes and overall clarity. 
Mini verdict: The Galaxy S10 Plus is packed full of the best Samsung has to offer, and it comes together to give you the best smartphone experience around right now.
Read more: Samsung Galaxy S10 Plus review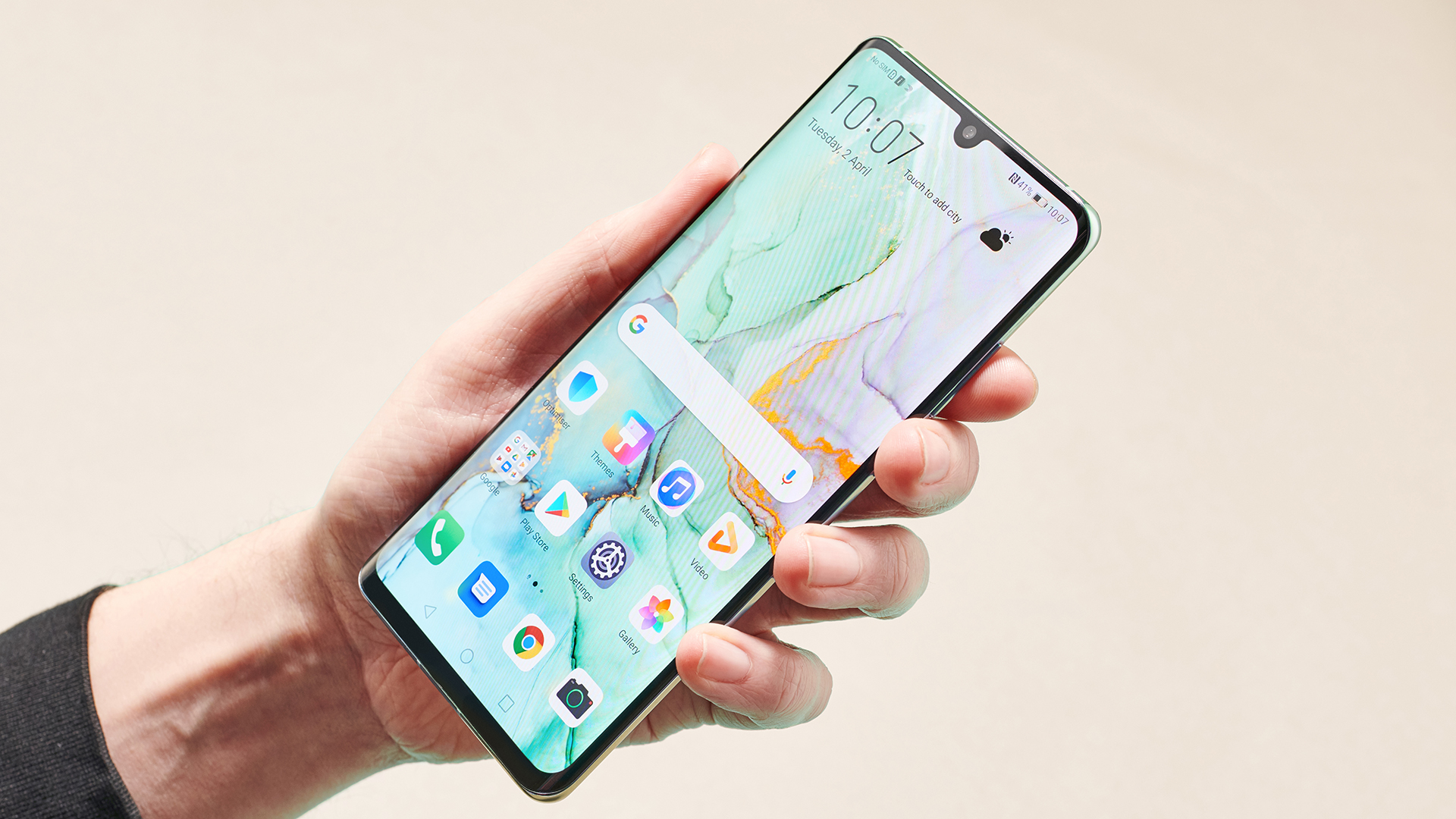 The Huawei P30 Pro is so close to being the best smartphone right now, and for some it will take top spot in their minds.
It's the best phone we've used when it comes to photography with 5x and 10x zoom capabilities and fantastic low-light performance.
Screen: The large 6.47-inch screen on the P30 Pro may 'only' have a Full HD+ resolution, but it's bright, clear and colorful providing an excellent canvas for your apps and games.
Battery life: There's no worry when it comes to the P30 Pro potentially running out of juice, the battery life here is excellent. We regularly got to the end of the day with 30% or more left in the tank.
Camera: The cameras are the P30 Pro's real party piece, providing staggeringly good 5x and 10x zoom, and a digital 50x zoom with gets you insanely close to objects far off in the distance. Its low-light capabilities are also top-notch.
Mini Verdict: The P30 Pro not only sets a new standard for Huawei, it sets a new standard for the entire mobile industry. Its cameras are quite simply astonishing, the design is eye-catching and the power plentiful. It's a true flagship smartphone. 
Read more: Huawei P30 Pro review
Pronounced ten S (like tennis), the iPhone XS and XS Max are the incremental upgrades to Apple's game-changing iPhone X from 2017.
They build on the all-screen, notch-laden, almost bezel-free design with more power under the hood, improved cameras, a new storage option and, in the case of the XS Max, a huge screen and even huger price tag.
Screen: The 5.8-inch OLED screen on the iPhone XS is the same as the one you'll find on the iPhone X, so it's the 6.5-inch offering on the XS Max which has really grabbed our attention – fantastic for video streaming and gaming.
Battery life: It's has improved a little on both handsets over the iPhone X, but you'll still find yourself plugging both of these phones in each night to ensure you'll get through a whole day in the morning.
Camera: The dual camera setup on both the iPhone XS and iPhone XS Max is fantastic. The Smart HDR mode makes images even clearer, brighter and more detailed, and Apple's famously intuitive interface makes snapping great shots a breeze.
Mini verdict: If you're after the latest and greatest iPhone, look no further. And if your hands are as big as your bank balance, the iPhone XS Max takes Apple's smartphone to a whole new level with plenty of additional screen space.
Read more: iPhone XS review | iPhone XS Max review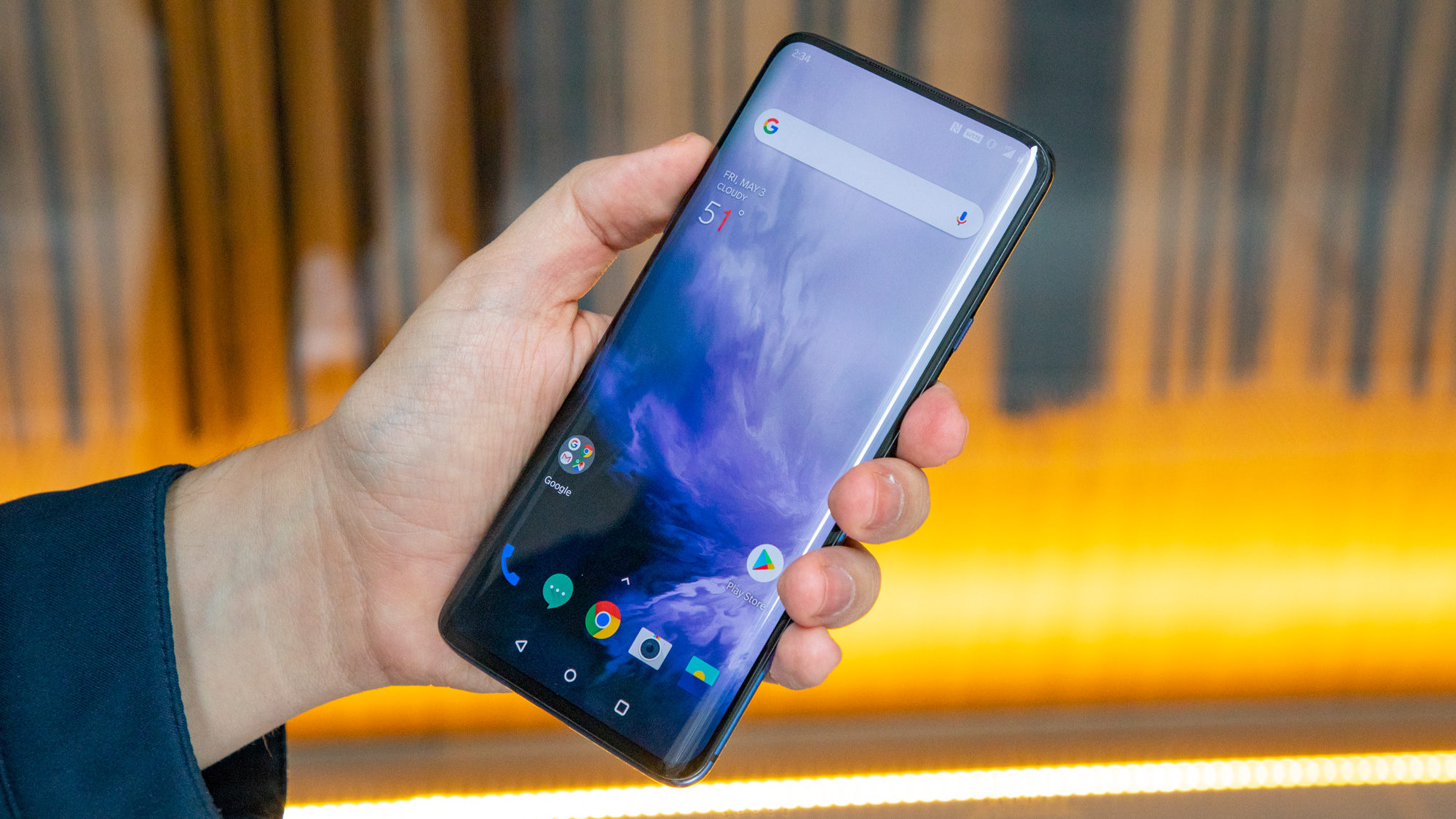 OnePlus has grown up, and the OnePlus 7 Pro is the first fruit of its new-found maturity with a heap of features, plenty of power and yes, an inflated price tag over what we've come to expect from the 'affordable flagship' provider.
That said, the OnePlus 7 Pro is still cheaper than the top phones from Samsung, Apple, Sony and Huawei, so it's not going to break the bank – and with it's pop-up camera party trick and glorious all-screen design there's a lot of love.
Screen: There's a whole lot of screen on the OnePlus 7 Pro, with the 6.67-inch QHD display free of notches, punch-hole cameras and any over-sized bezels. The front of the phone is pretty much all screen and it looks great, with a colorful punch thanks to the AMOLED panel.
Battery life: We found the OnePlus 7 Pro could last more than a day on a single charge, which is great news and something not all handsets in our best phones roundup can boast.
Camera: There's a triple camera setup round the back of the OnePlus 7 Pro, with Sony's 48MP sensor your main snapper, but with telephoto and wide-angle secondary options too. It's a solid snapper, but it doesn't quite challenge the likes of Google's Pixel 3 range. However, there's something fun on the front – not that you can see the front-facing camera. That's because it's hidden in the body, and pops out of the top of the phone when required.
Mini verdict: The OnePlus 7 Pro is closer to delivering everything you want from a flagship phone than any previous OnePlus handset – while still being able to undercut the big-name competition.
Read our full OnePlus 7 Pro review
Price comparison: The best OnePlus 7 Pro deals
The Huawei Mate 20 Pro is still one of the best phones to date, offering up a heady mix of design, power and performance with a few party pieces thrown in too.
It builds on the excellent P20 and P20 Pro, offering up even more screen, enhanced triple rear cameras and an in-display fingerprint scanner.
Screen: The Mate 20 Pro packs a huge 6.39-inch display giving you a huge amount of space for gaming and movies, and its QHD resolution and HDR10 support ensures everything looks great. There is a wide notch at the top of the display though.
Battery life: You'll get great battery life from the Mate 20 Pro, and we regularly achieved a day and a half of usage from a single charge during our review time with the handset.
Camera: The Mate 20 Pro comes with three cameras on the rear, nabbing the excellent 40MP wide-angle and 8MP telephoto lenses from the P20 Pro – but the third sensor is new. It's an ultra-wide 16MP snapper allowing you to cram even more of your surroundings into each shot.
Mini verdict: The Mate 20 Pro is a full-featured phone for a full-featured price – it even has a few tricks you won't see elsewhere, and more powerful specs than most of its competitors.
Read more: Huawei Mate 20 Pro review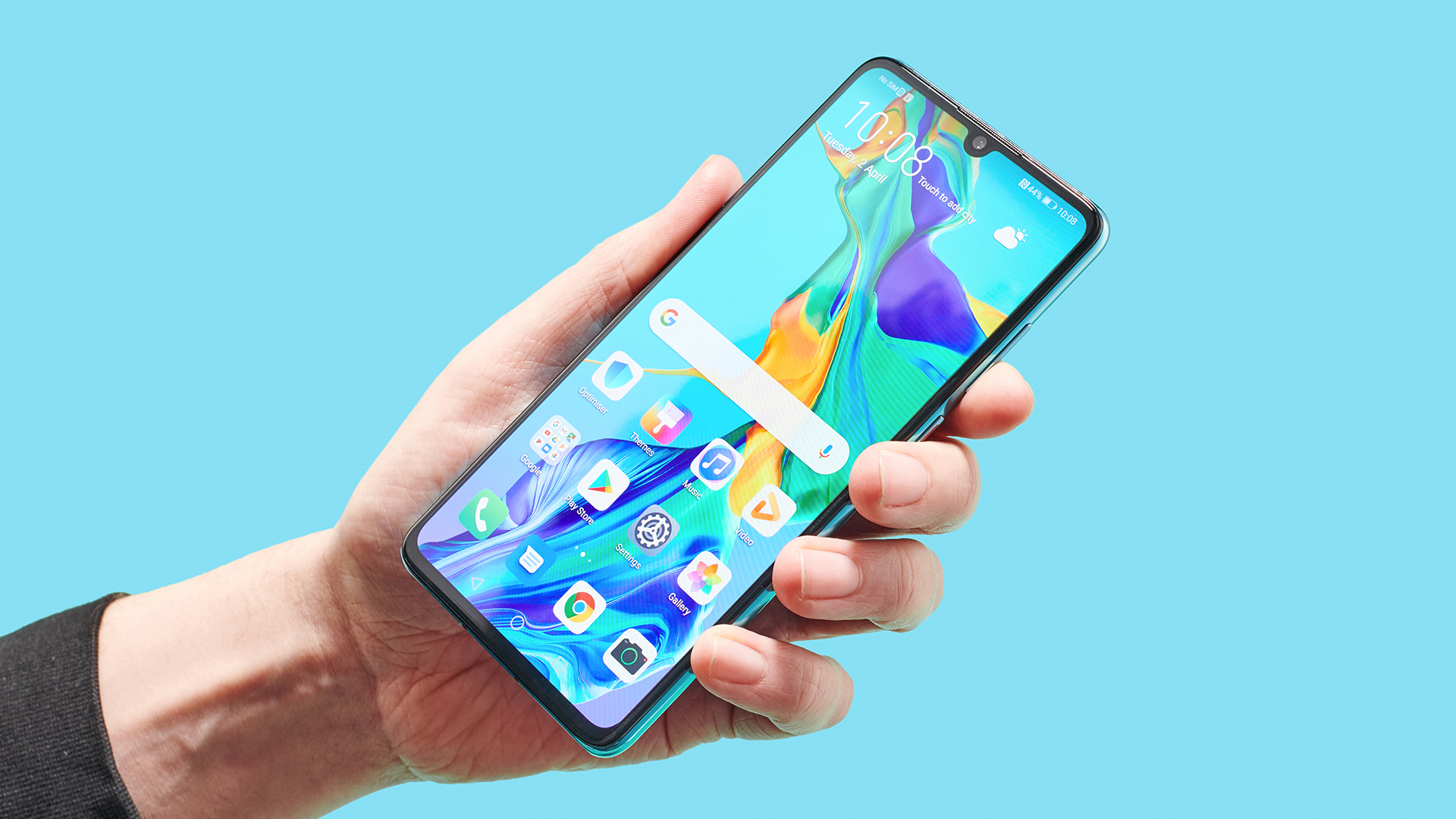 What's this? Another Huawei phone in the top ten? Your eyes do not deceive you, the Huawei P30 really is fifth in our best phone rundown.
It has a smaller screen than the P30 Pro, and makes do with just the three rear cameras (rather than four) and a maximum zoom of 30x, but it's still a great Android phone.
Screen: With a 6.1-inch display the P30 is a little easier to manage in the hand than its larger sibling, and with a Full HD+ and plenty of colour it's a top smartphone screen.
Battery life: You can expect to get excellent battery life from the Huawei P30, with the phone often lasting a day and a half on a single charge without issue.
Camera: While the three cameras on the rear aren't quite as good as the four on the P30 Pro, they still offer up an impressive shooting experience with 5x, 10x and 30x zoom and great low-light abilities.
Mini verdict: There's heaps of power, a handy headphone jack (something the Pro can't boast) and a more manageable form factor for one-handed use. And of course, it's a little cheaper too.
Read our full Huawei P30 review
The iPhone XR (pronounced 'ten R') is a cheaper smartphone from Apple aimed at opening up its mobile range to more consumers, with a range of colors, premium design and still a decent slug of power under the hood.
While it doesn't cost as much as the XS or XS Max, the iPhone XR isn't a cheap phone – it's just more affordable than the other two new iPhones.
Screen: The iPhone XR may be the cheapest of Apple's three new iPhones, but it sits in the middle of the trio in terms of screen size with its 6.1-inch display. This provides lots of space for movies and games, although its resolution is under full HD. 
Camera: The camera on the iPhone XR doesn't hit the same heights as its XS siblings, and portrait mode is a little lacking, but it still offers up the same intuitive Apple interface and an auto mode than makes the best of most scenarios.
Battery life: The shining light for the iPhone XR is its battery life. If you're looking for an iPhone with great endurance, this is it, with the XR easily lasting a full day on a single charge.
Mini verdict: The iPhone XR is one of the best handsets Apple has ever made, and that's mainly down to the excellent battery life.
Read more: iPhone XR review
The Samsung Galaxy Note 9 is one of the best phones we've ever tested – and also one of the most expensive. However, for that money you're getting an extraordinary spec list, including the first mainstream phone to offer 1TB of storage and an incredible screen.
Screen: Let's get right to that screen: it's beautiful. Yes, it's a bit narrow if you're coming from the Note 5 or similar, but the way it wraps around the frame, the smaller bezels and the impressive color reproduction and brightness make it a real favourite.
Battery life: With 4,000mAh under the hood, the Note 9 has one of the biggest batteries Samsung has ever thrust into a device, meaning it can easily last through the day (plus it has new cooling tech to help it last longer in gaming sessions, although we've not seen much proof of that). You can also charge over wireless easily, and fast charging boots in 17% battery in 15 mins.
Camera: The cameras on Samsung phones are part of the reason they rank so highly in our list – the sheer capability and low light performance is impressive. Photos are definitely more on the colourful side, but there are more AI smarts in the mix to help you get the right shot at the right time.
Mini verdict: It's hard to wrap the Samsung Galaxy Note 9 into a mini verdict – it does so much and we've not even touched on the new, camera-remote-enabled Bluetooth S Pen. The expansive, quality screen, the battery life and the camera all combine to make this a stunning smartphone… if you can afford it.
Read more: Samsung Galaxy Note 9 review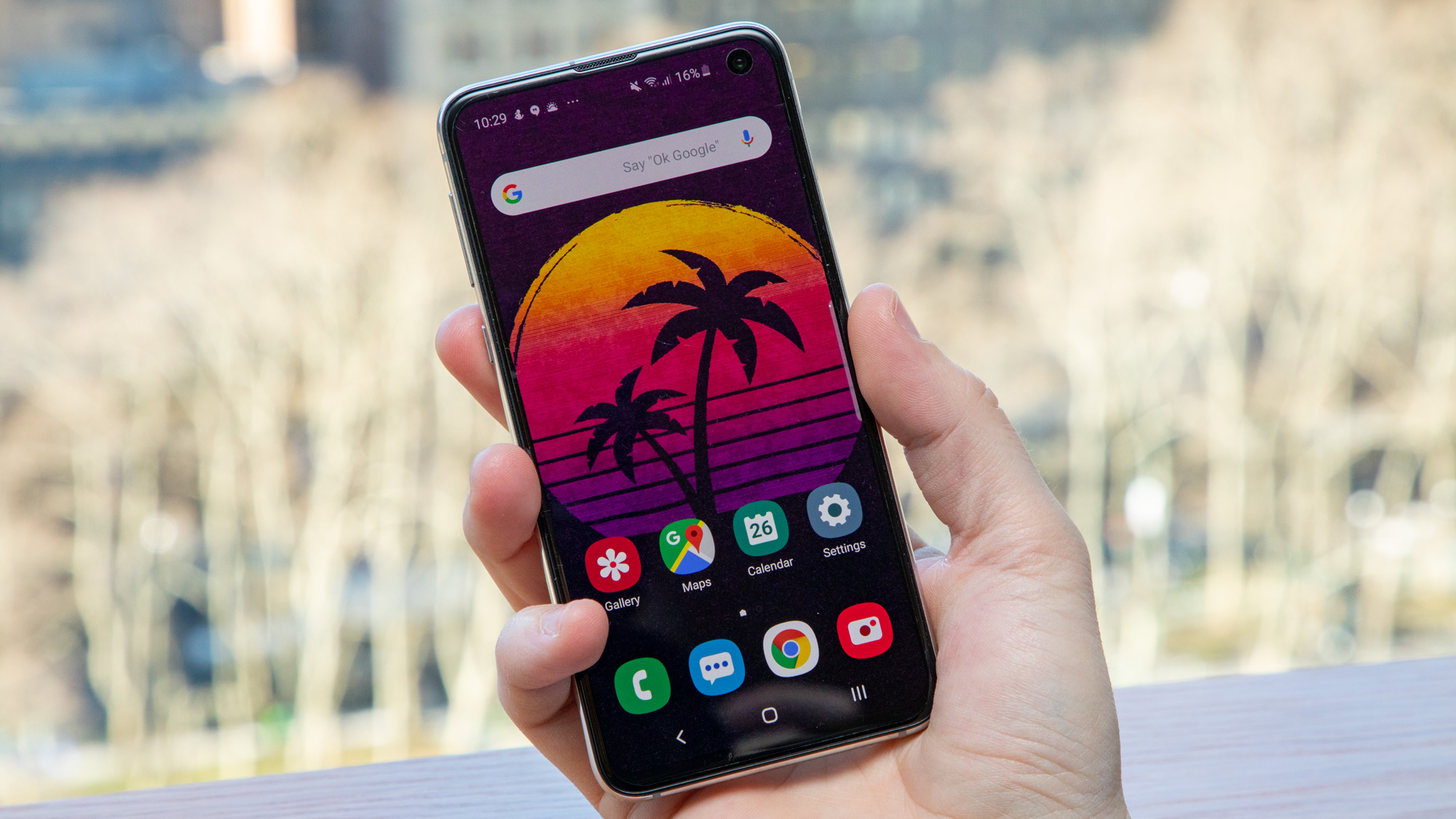 Like the look of the new S10 and S10 Plus, but not a fan of their lofty price tags? Well fear not, as Samsung has catered for you with the Galaxy S10e.
The Galaxy S10e has many of the flagship features of its pricier siblings, while offering a more palm-friendly size and a few compromises to help keep the cost down.
Screen: You don't get a QHD resolution here, instead you'll have to accept a Full HD+ 5.8-inch screen – but the Super AMOLED display provides plenty of colour and pop.
Battery life: We found battery life lasted a day on a single charge – which is what we've come to expect from phones – plus its wireless charging and Wireless PowerShare making topping it up, and you other devices, even easier.
Camera: The dual camera setup on the S10e isn't quite as good as the triple cameras on the S10 and S10 Plus, but they're still highly capable snappers producing quality photos with ease.
Mini verdict: It's hard not to recommend the S10e to anyone who prefers a smaller phone. Size queens, look elsewhere – this smartphone is for folks who want to text and browse apps one-handed without compromising performance.
Read our in-depth Samsung Galaxy S10e review
Price comparison: The best Samsung Galaxy S10e deals
The Honor View 20 is the best phone to come out of the Chinese brand, with a striking rear design (which may divide opinion), plenty of power under the hood, an impressive 48MP camera and a 'punch-hole' display which ushers in the post-notch revolution.
Screen: There's a huge 6.4-inch display on the View 20, giving you plenty of space to play with. It's the location of the front-facing, 25MP camera within the screen which is the real talking point though, as rather than appearing in a bezel or a notch which juts into the screen, it's surround by screen. It's different, but will it catch on?
Battery life: The Honor View 20 has a big 4,000mAh and the result is a battery which will comfortably last through an entire day and into the next on a single charge.
Camera: The View 20 is the world's first smartphone to boast a 48MP rear camera, as the firm has used Sony's new sensor to provide a camera which really packs a punch.
Mini verdict: An ultra-high-resolution camera and punch hole screen are the highlights on the Honor View 20, and they set a standard this year's more expensive phones will need to match.
Read more: Honor View 20 review
You're at the end of our best smartphone guide, but that doesn't mean we can't help you still – if you're stuck on which model is for you, we've got a tool that can compare all the phones together and you can decide which one suits you best based on the cost.
Author: Go to Source