Sony Alpha A7 review
The compact system camera market is still relatively new to the camera world, but it's still able to produce new cameras that shake up the system just a little bit.
[Update: The Alpha A7, along with the Alpha A7R, was Sony's first entry into the world of full-frame photography. It's since been replaced by both the Alpha A7 II and our favorite mirrorless camera right now, the Alpha A7 III, but it's still available and cheaper than ever. Performance is a bit sluggish compared to newer models, but if you're looking for a very affordable way to get into full-frame photography, the Alpha A7 (also referred to as the Sony ILCE7KB by some retailers) is definitely worth a look.]
Sony is no stranger to innovation, with its seemingly relentless desire to be seen at the forefront of consumer technology. So it doesn't come as too much of a surprise that it's first to the market with a compact system camera featuring a full-frame sensor.
The A7 comes in two varieties, one with a 24.3 million pixel sensor and one (the A7R) with a higher resolution, 36.4 million pixel sensor and no anti-aliasing filter.
As you might expect, the A7 is slightly cheaper than its AA filter-less sibling. However, when you compare both to other full-frame cameras on the market, they suddenly appear to be pretty good value for money.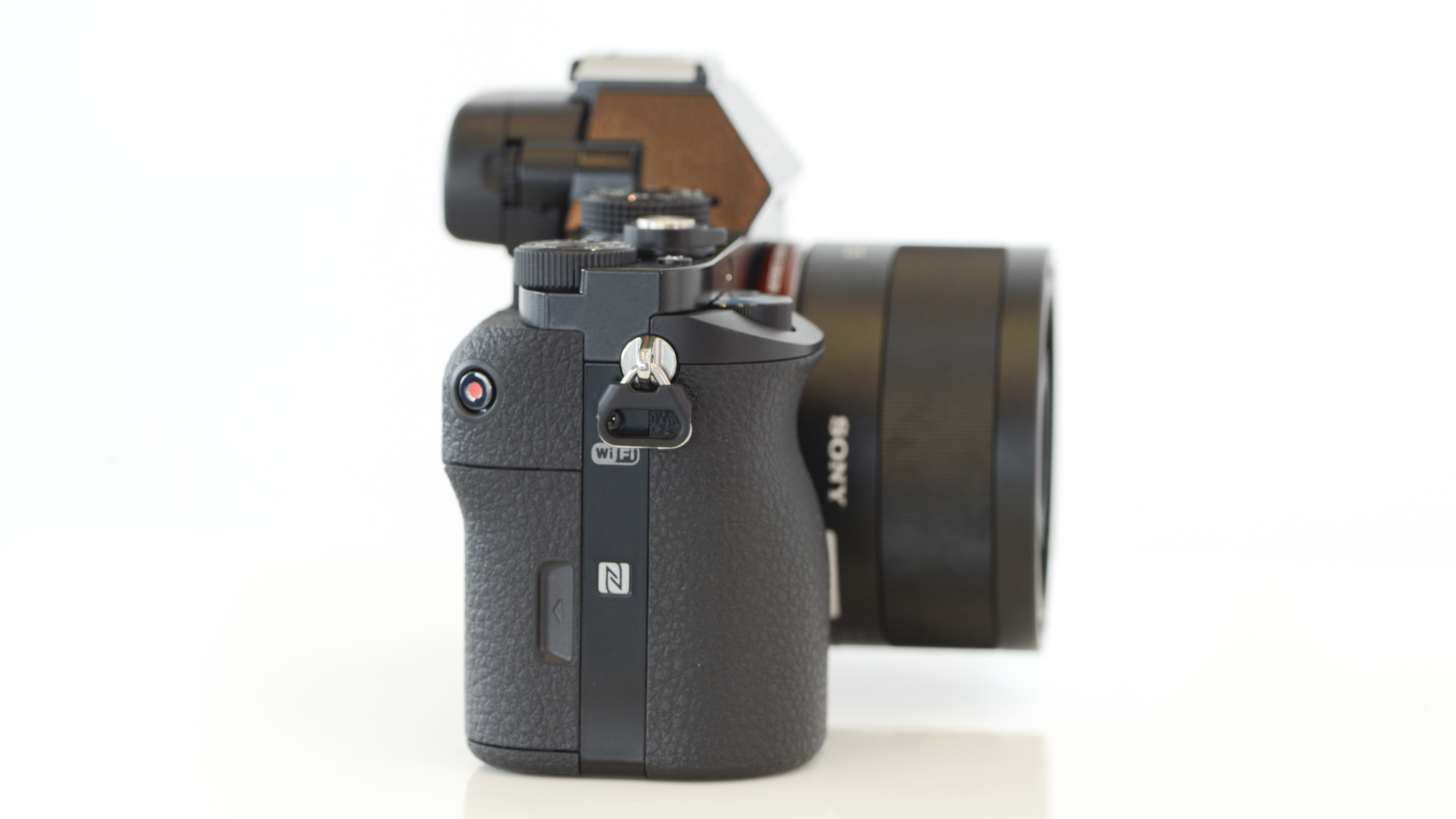 Along with the exciting new sensor, the A7 is equipped with a new processing engine. The Bionz X processor claims to be up to three times faster than the equivalent in its predecessors. There's also a new AF algorithm that boasts very quick autofocusing speeds. The A7 features a hybrid autofocusing system, which boasts 117 phase-detection points and 25 contrast-detection points.
The A7's autofocusing system is sensitive down to 0EV, which doesn't compare particularly favourably with competitors like the Nikon D610, which is capable of -1EV, or the Canon EOS 6D, which is sensitive down to -3EV. So it should be pretty interesting to see how the camera copes when shooting in low light conditions.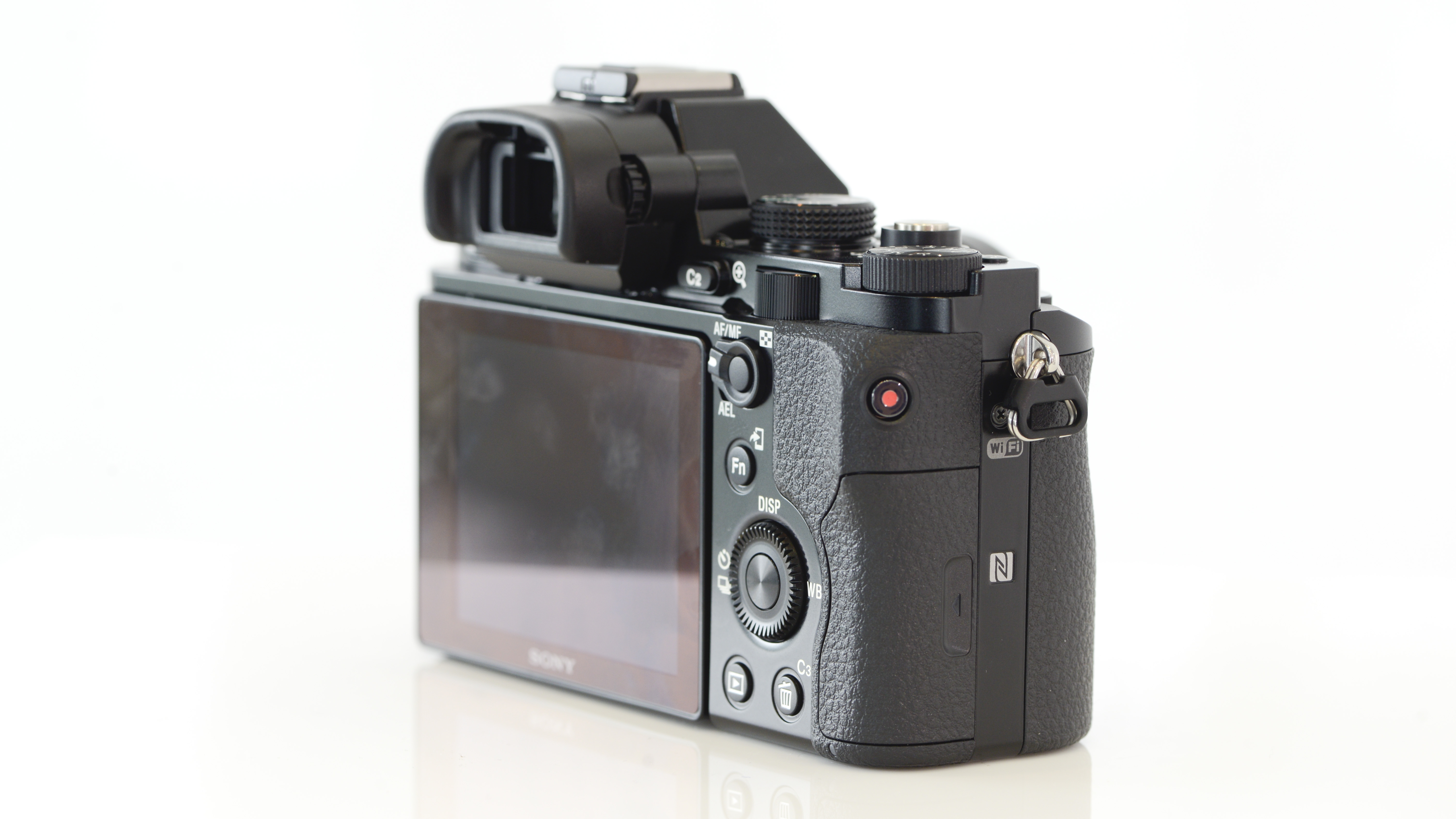 Although the A7 uses the existing E-mount, current E-mount lenses have not been designed for full-frame, so if you choose to use those the camera will automatically crop to APS-C mode (although you can switch that off). To get the most from the camera, a range of five new lenses have also been announced to include zoom lenses and prime optics, some in conjunction with premium lens manufacturer, Zeiss.
The A7 will be available to buy as a kit with a 28-70mm FE (that's a full-frame E mount) f/3.5-5.6 lens. There's also a 35mm f/2.8 available to buy as of now, while the 55mm f/1.8 should be available soon. Also in the offing for the very near future is a 24-70mm f/2.8 Carl Zeiss zoom lens and 28mm f/2.8 Zeiss optic.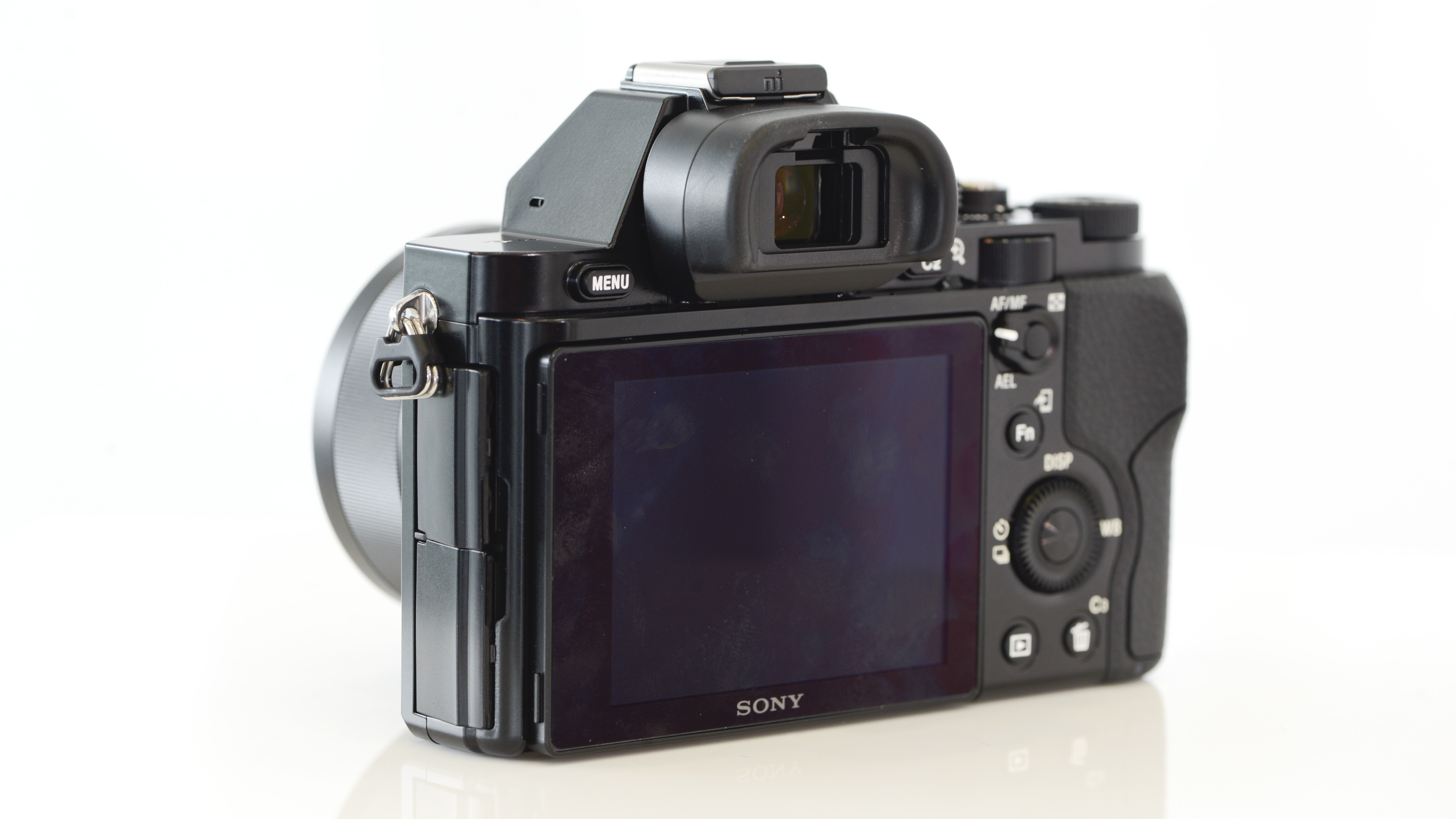 Sony says that it will continue to develop extra FE lenses, meaning that there should be 15 available by the end of 2015. A converter is also available for mounting any existing A-mount full-frame optics that you may have – remember that Konica Minolta lenses are also compatible.
It's also possible to purchase third-party adaptors for lenses from entirely different systems, such as Canon and Nikon – a bonus for any current full-framers contemplating making a switch but not relishing the idea of a full system swap.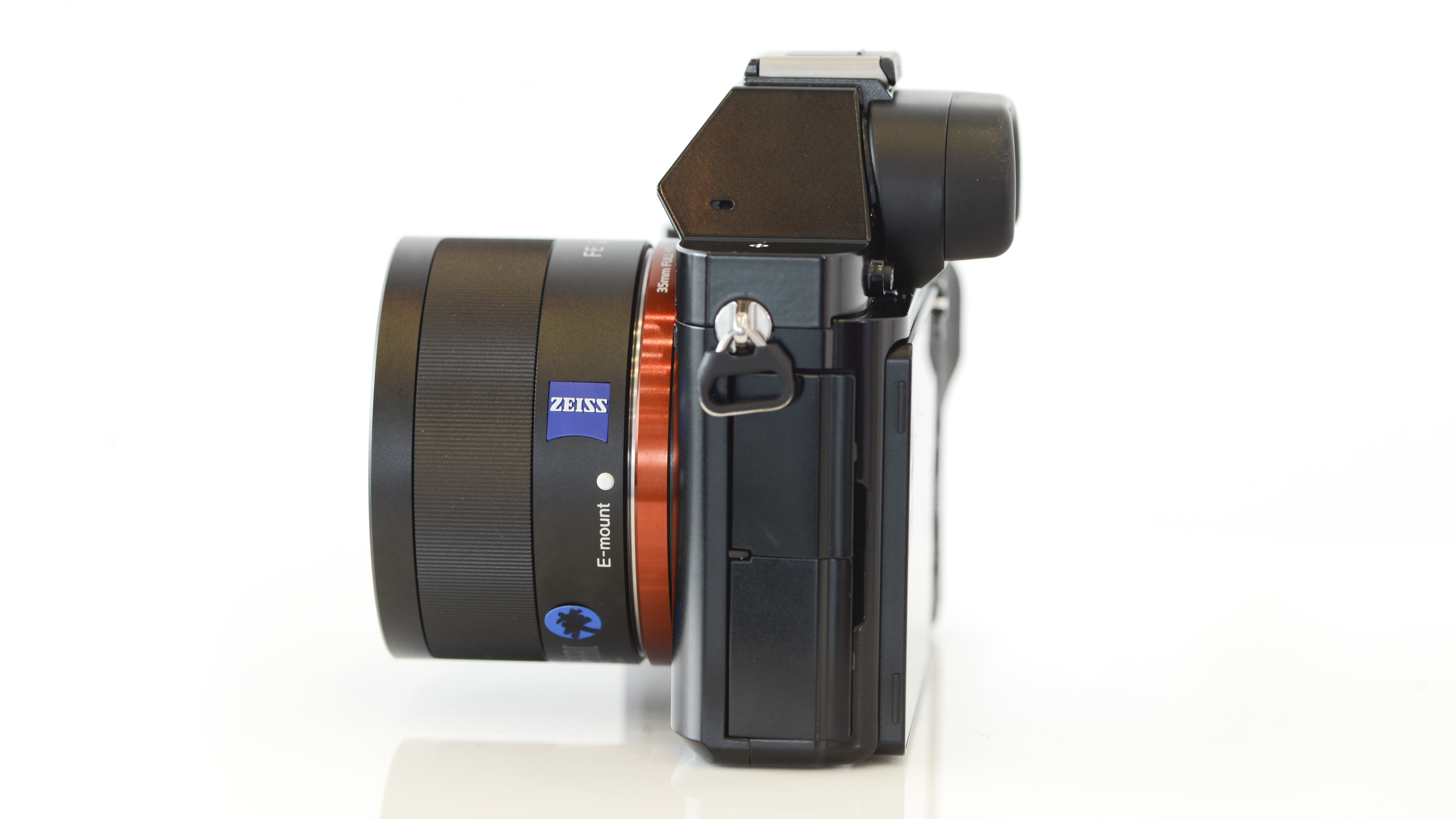 Other interesting features of the camera include dust and moisture resistance. While not fully waterproof, moisture resistance should see it cope with the odd rain shower without too much trouble. It's also equipped with Wi-Fi and NFC connectivity, which means that you can share images with your smartphone or tablet instantly, or use another device to remotely control the camera.
The Sony A7 and A7R are more or less unique in the market, being so small and light, and of course mirrorless. However, if we're talking about "entry level" full-frame cameras, the A7 does compete with the Nikon D610 and the Canon EOS 6D. It's cheaper, and of course smaller, than both of those options, making this appealing for those looking for their first foray into full-frame shooting.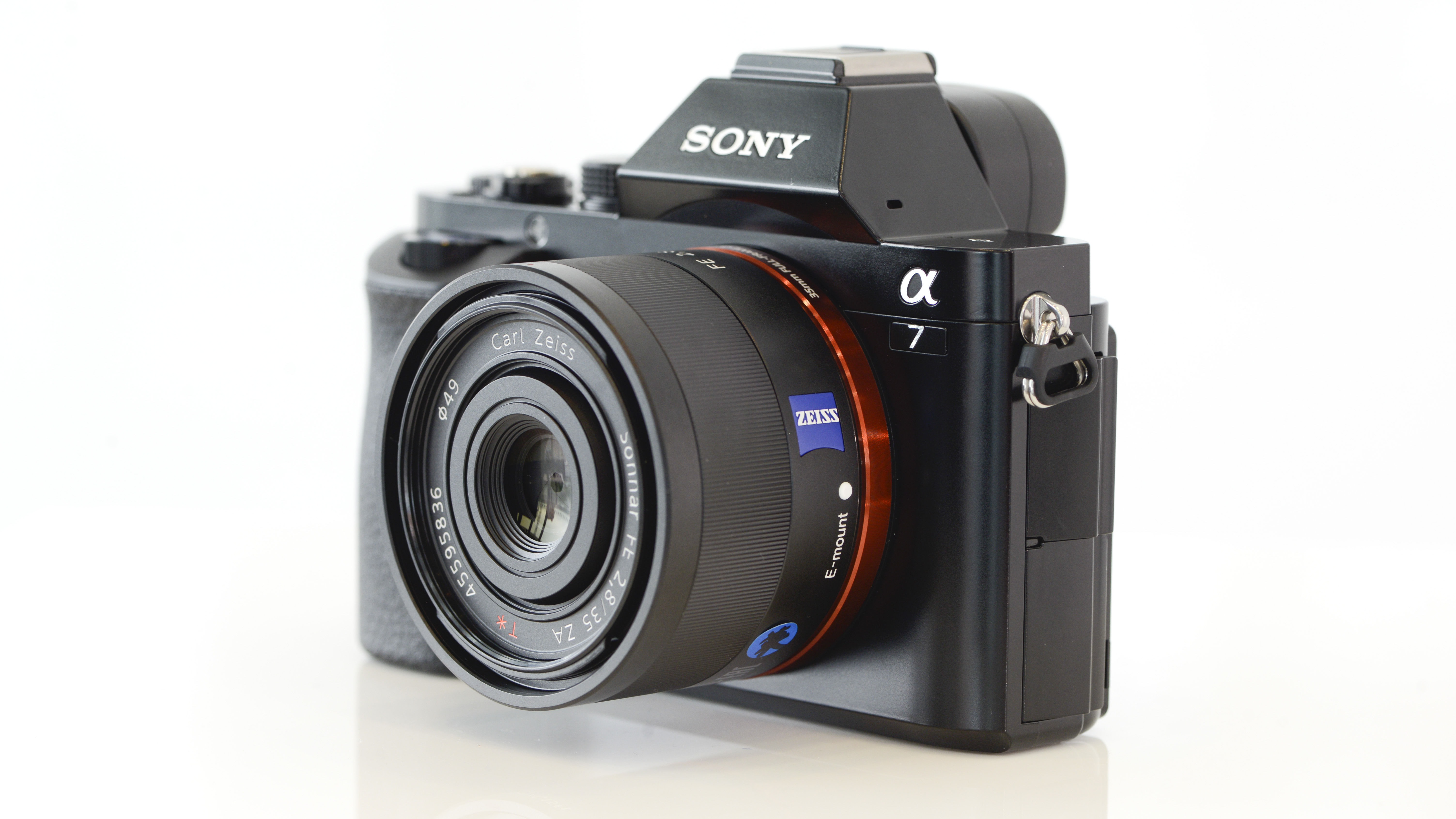 In terms of compact system cameras, the A7 isn't exactly cheap. But this isn't like other compact system cameras. Compared to other full-frame interchangeable lens cameras, it's a bit of a bargain.
Although the camera itself is considerably larger than NEX cameras which feature an APS-C sized sensor, probably the first thing you'll notice about the A7 is its small size compared to other full-frame interchangeable lens cameras such as the Nikon D610 or Canon EOS 6D.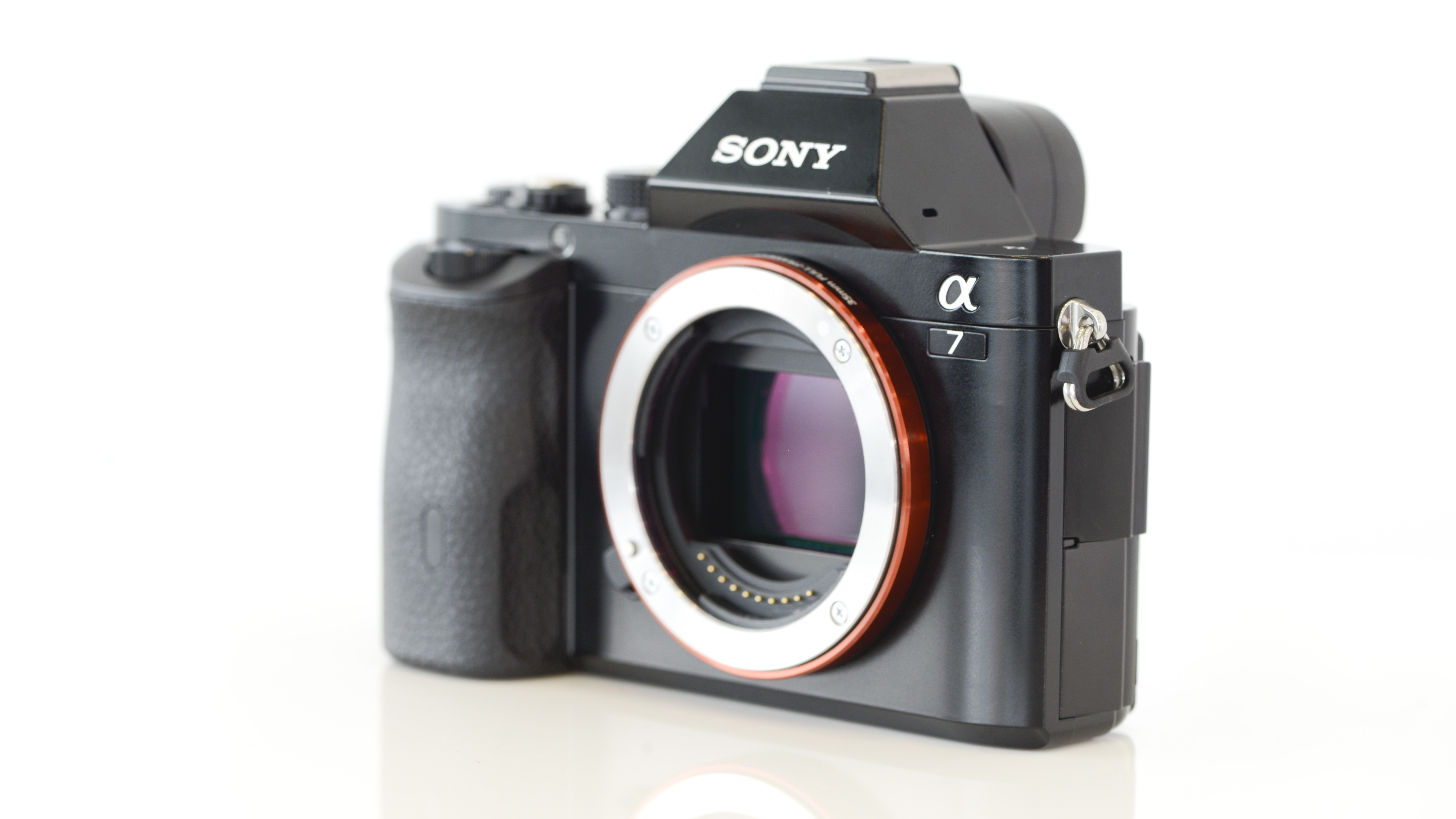 That said, it still has a reasonably chunky grip which gives excellent purchase, especially when using the camera one-handed. The entire design of the camera is a little boxy, which will be appreciated by some, but not by others. While it's true that it doesn't have the retro gorgeousness of Fuji's X system cameras, there's a certain simplistic appeal. There's a satisfying number of dials and buttons on the camera, which will be appreciated by the enthusiasts that the camera is aiming itself at.
The majority of the buttons on the camera are grouped on the right hand side, making them easy to reach with the thumb – another bonus when using the camera one handed.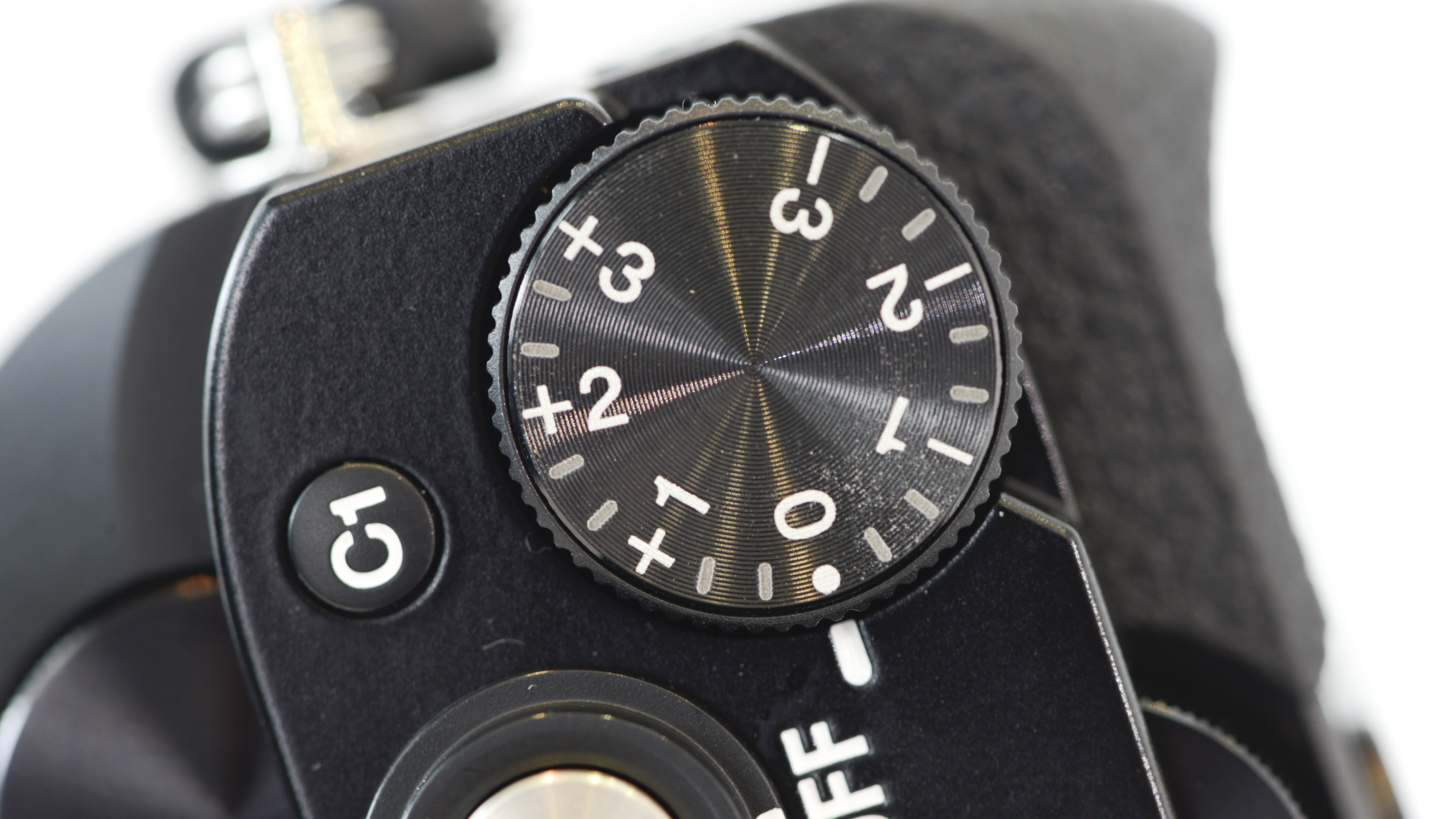 On top of the camera is a mode dial for switching between the various exposure modes on offer, including aperture priority and shutter priority. There's also space here for up to two groups of customisable settings, which is useful if you often find yourself shooting in a particular type of condition, such as low light.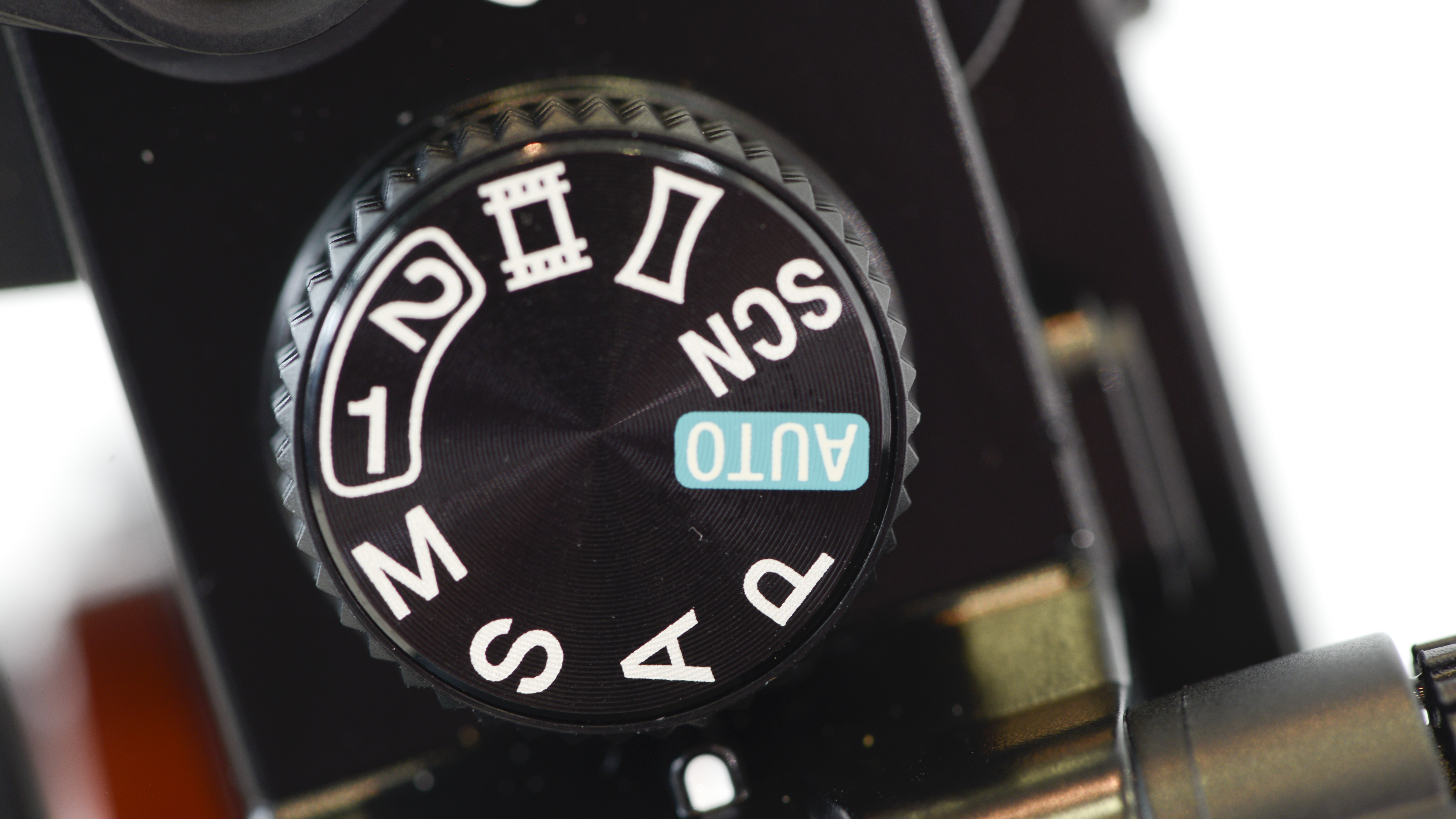 Just above the hand grip is a scrolling dial which can be used for making changes to settings such as aperture or shutter speed, depending on the mode you're shooting in. It's naturally placed to be found when using the camera one handed and feels like a natural extension to your finger. On the back of the camera, where your thumb would naturally sit, is a second scrolling dial which can also be used to set aperture or shutter speed. If shooting in fully manual mode, you can use the front dial for aperture and the back dial for shutter speed, making for a very fluid way to work.
Also on top of the camera is an exposure compensation dial, which is also useful when shooting one-handed, and easily – but crucially, not too easily – changeable with your thumb.
One of the best things about Sony cameras is the amount of customisation they offer. The a7 is no different, with three buttons labelled as "c" for customisable. You can also customise some of the other buttons, offering plenty of user-friendly scope depending on how you like to work.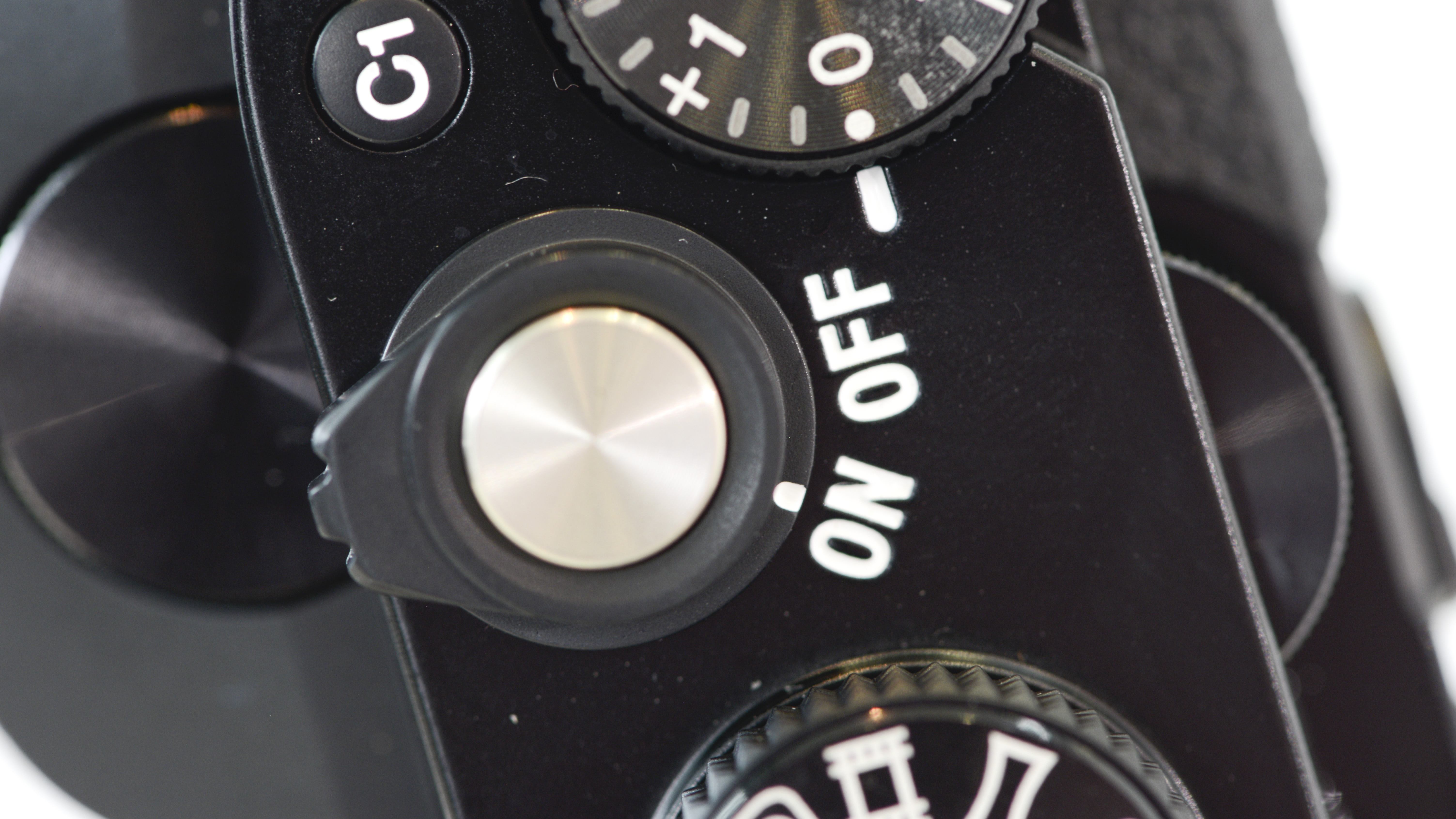 The a7 offers a tilting LCD screen that's not fully articulated – so more useful for portrait shooting – which is great for shooting from awkward angles. You can tilt it down for composing from above, or up for shooting from high angles, such as above your head.
In order to change the autofocus point, as standard, the c1 button on the top plate first needs to be pressed to bring up "focus settings". You then use the directional arrow keys to move around the screen to the point you wish to use. It's quicker than some other Sony cameras, but it's still not as lightning fast as using a touchscreen, which can be a little frustrating if you're trying to work speedily.
For the first time in a Sony system camera, you're able to change the size of the AF point, between small, medium and large. This is helpful if you want to focus on a fine detail.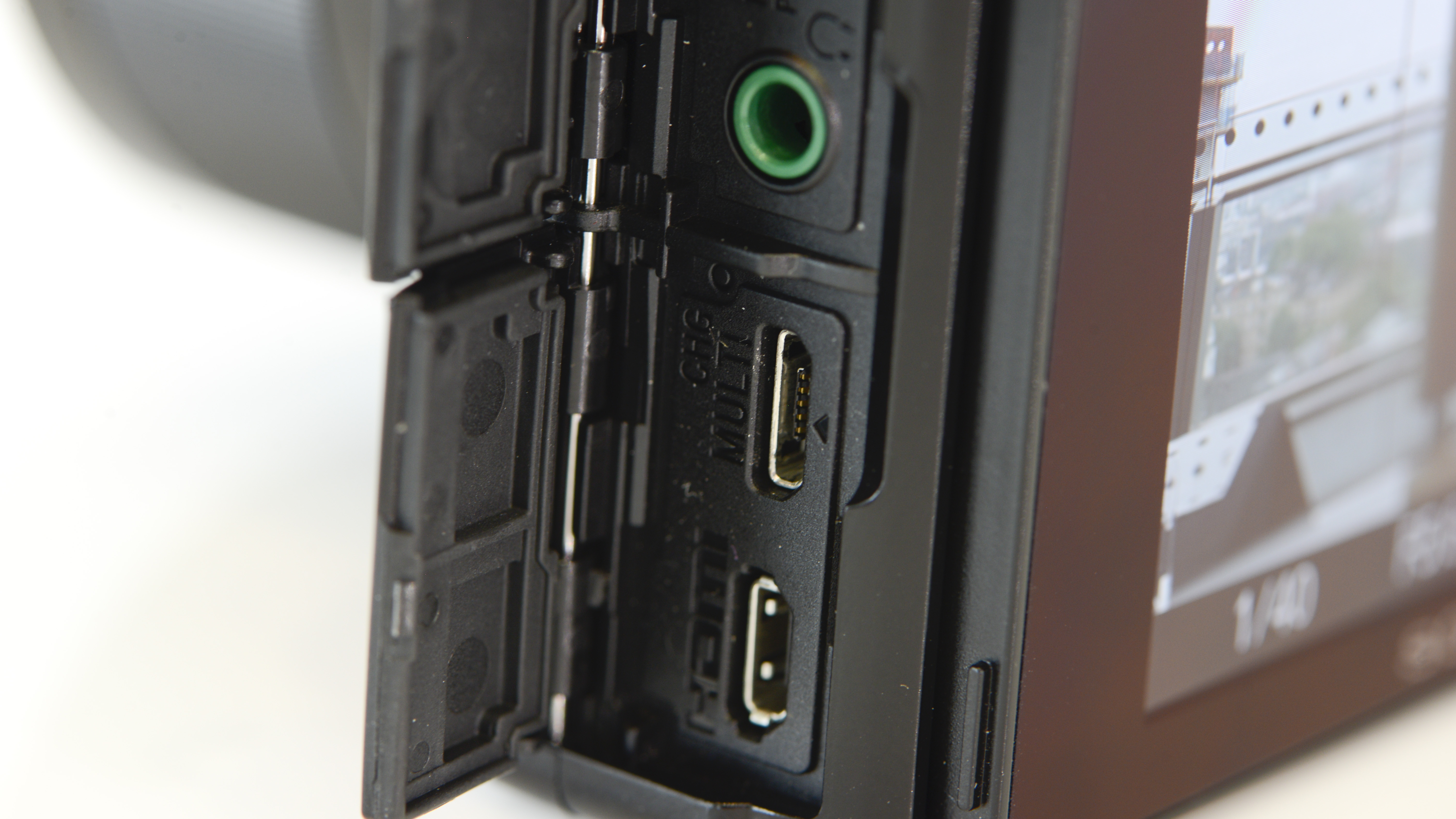 There's also an electronic viewfinder, which offers an incredible 2.4 million dots in its half-inch size. An eye-sensor ensures an almost seamless transition between the EVF and LCD, and is very useful. The EVF itself is also bright and clear, making it lovely to use. Electronic viewfinders have suffered from a bad reputation in the past, so it may be difficult to convince traditional full-frame users of the benefits of working with an electronic viewfinder. But they are varied and include the ability to instantly see whether you've captured the shot you need.
Anyone familiar with previous Sony cameras should be at home with the menu system, which is for the most part reasonably arranged. Sony has chosen to use the Alpha menu system for the a7, rather than the NEX menu system, which I think is a blessing as the latter can be a little hard to navigate at times.
The A7 and the A7R are two of the most exciting cameras to be announced this year, representing a genuine step forward in mirrorless technology. We had very high hopes for both models, with the A7 using the same base sensor as the Sony Alpha 99, something which we already knew to be a decent performer.
Happily, we have not been disappointed by the images that the A7 is capable of producing. Although it is the cheaper and lower resolution of the two Sony cameras, it's still more than capable of holding its own in the image quality stakes.
Colours are beautifully represented, tending to be bright and punchy without showing too much vibrance. If you need to change the colour output of the camera, a number of Creative Styles, including Vivid and Black and White are also available. Skies are represented well, not displaying too much evidence of cyan tones, while skin tones are also beautifully natural.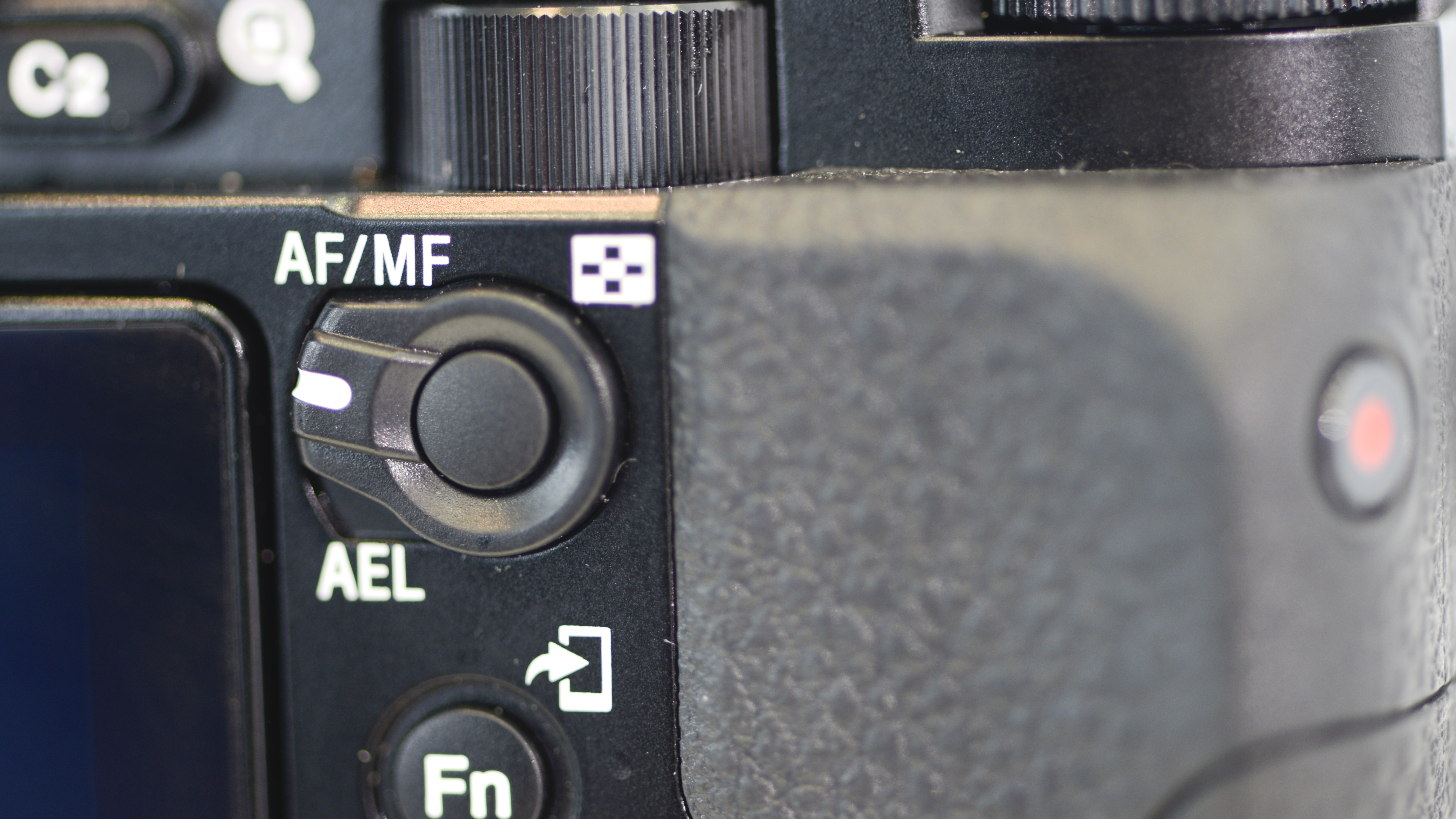 The A7 can be bought as a package with the 28-70mm f/3.5-5.6 FE lens. While this is a decent enough walk-around lens to get you started, it's really not the lens that the full-frame sensor deserves. It's worth considering this camera as a body-only option, and sticking with the admittedly more expensive prime lens options. The camera's 24 million pixel sensor is capable of resolving a good amount of detail, but some of that is lost, especially towards the edges of the frame, when using the 24-70mm optic.
Generally speaking, the Alpha 7's metering system does a good job when left on Multi (all-purpose), although you may find you need to dial in or down some exposure compensation when shooting in areas of high contrast, or if shooting somewhere particularly dark. Using an electronic viewfinder helps in these scenarios, as a live preview of the image will be displayed in the viewfinder.
Similarly, the automatic white balance option copes reasonably well in the majority of situations, albeit erring towards incorrect colour casts when shooting under artificial lights. In these cases, it makes sense to switch to a more appropriate white balance setting to compensate.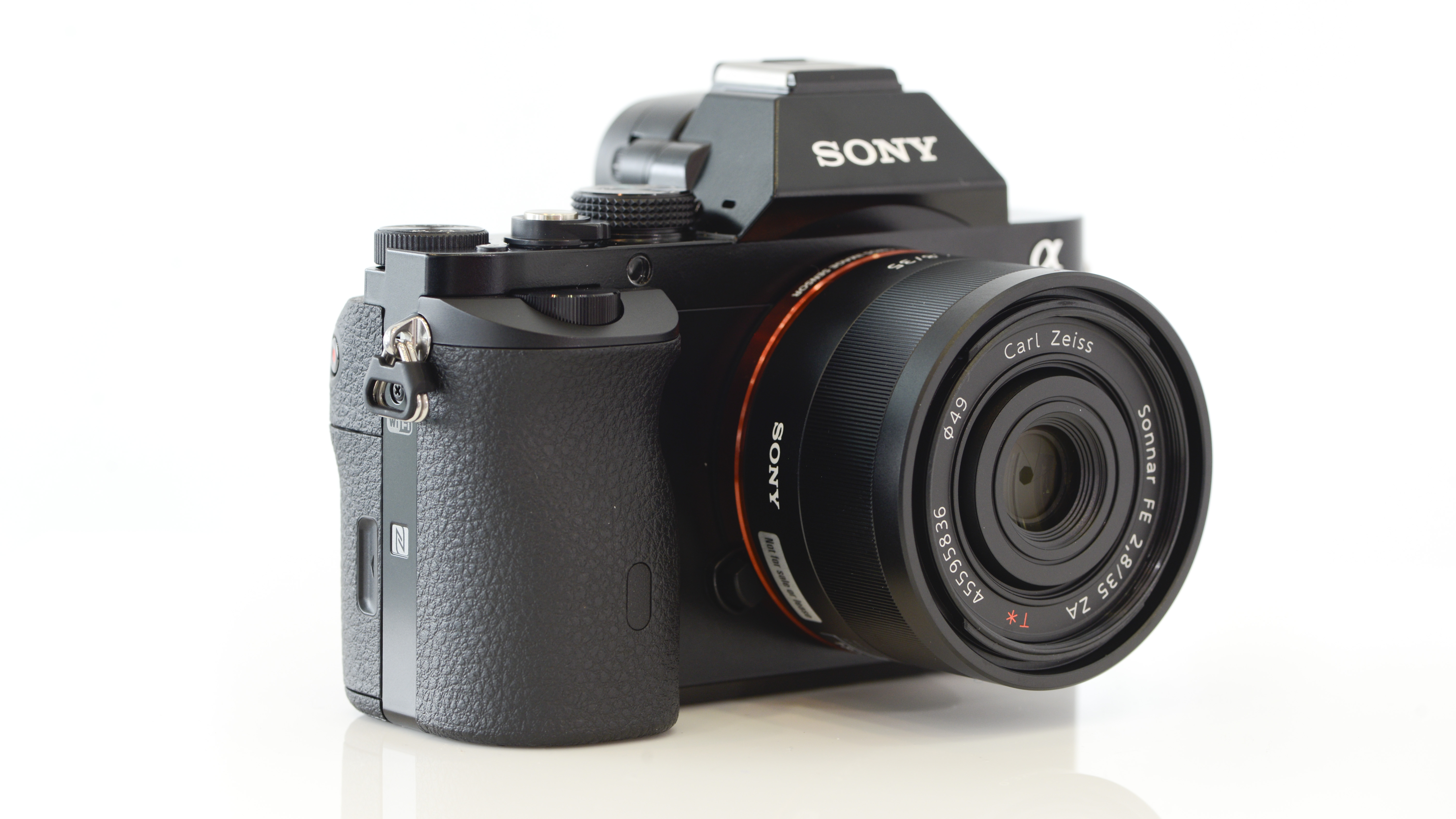 Sony claims that the A7 boasts faster autofocusing speeds than other full-frame cameras such as the Nikon D610 and Canon 6D. While that is true in good light, it's less capable in lower lights than those cameras. In good light, autofocusing is snappy, locking on quickly, and for the most part, accurately. However, as light levels drop, autofocus hunts a little more, and on occasion brings up a false positive.
With a large sensor, the camera should be more capable than its smaller-sensored siblings and competitors in lower light/higher sensitivity situations. In reality, it is. Noise doesn't really start to become apparent until around ISO 1600, while it doesn't start to become problematic until ISO 6400, and even then only when you're examining images at 100% to look for issues. Sharing at normal web sizes, or printing at A4 (or below) at these levels is more than acceptable.
Like other Sony cameras, the A7 is equipped with a Dynamic Range Optimiser. You can choose to have this switched off, left on automatic or set on a level from one to five (with one being the most subtle). This does a good job of producing balanced exposures where the contrast might otherwise confuse the camera. I chose to leave it switched to automatic the majority of the time, only switching to level four or five if there was extreme contrast in the situation. This can result in the image looking a little fake on occasion. But it's a good option, especially if you don't to spend too much time working on your shots in post production.
Despite this camera being aimed at more advanced photographers, Sony hasn't skimped with the creative options it offers. There's Creative Styles, which are available to shoot all the time, including when shooting in raw format – good news if you want a "clean" version of the image to work with at a later date.
There's also Picture Effects, which unfortunately still can't be shot in raw format. It's a point we keep raising with Sony cameras, and we hope that one day the company will change this – purely because it can seem like a good idea to shoot in Toy Camera (for example) mode at the time, but later on you may wish you had an unaltered version to work with. On the plus side, you can keep full manual control when using filters.
There is also a Sweep Panorama mode, something that Sony pioneered a few years ago. This basically allows you to create panoramic images in camera, simply by sweeping it across the scene in front of you. Images made by this mode are good and ideal for sharing online. If you examine the panoramic images it produces at 100% you will find some evidence of image smoothing, but there generally isn't much evidence of repeating patterns.
The biggest drawback of the A7 is its battery life. There's no way that the camera can compete with full-frame DSLRs such as the D610, with it barely lasting half a day during testing. It's therefore recommended that at least one additional battery is purchased. It would be nice to see Sony including a spare in the box, but that doesn't seem particularly likely.
For a full explanation of what our resolution charts mean, and how to read them, check out our full explanation of our camera testing resolution charts.
Examining images of the chart taken at each sensitivity setting reveals the following resolution scores in line widths per picture height x100:
JPEG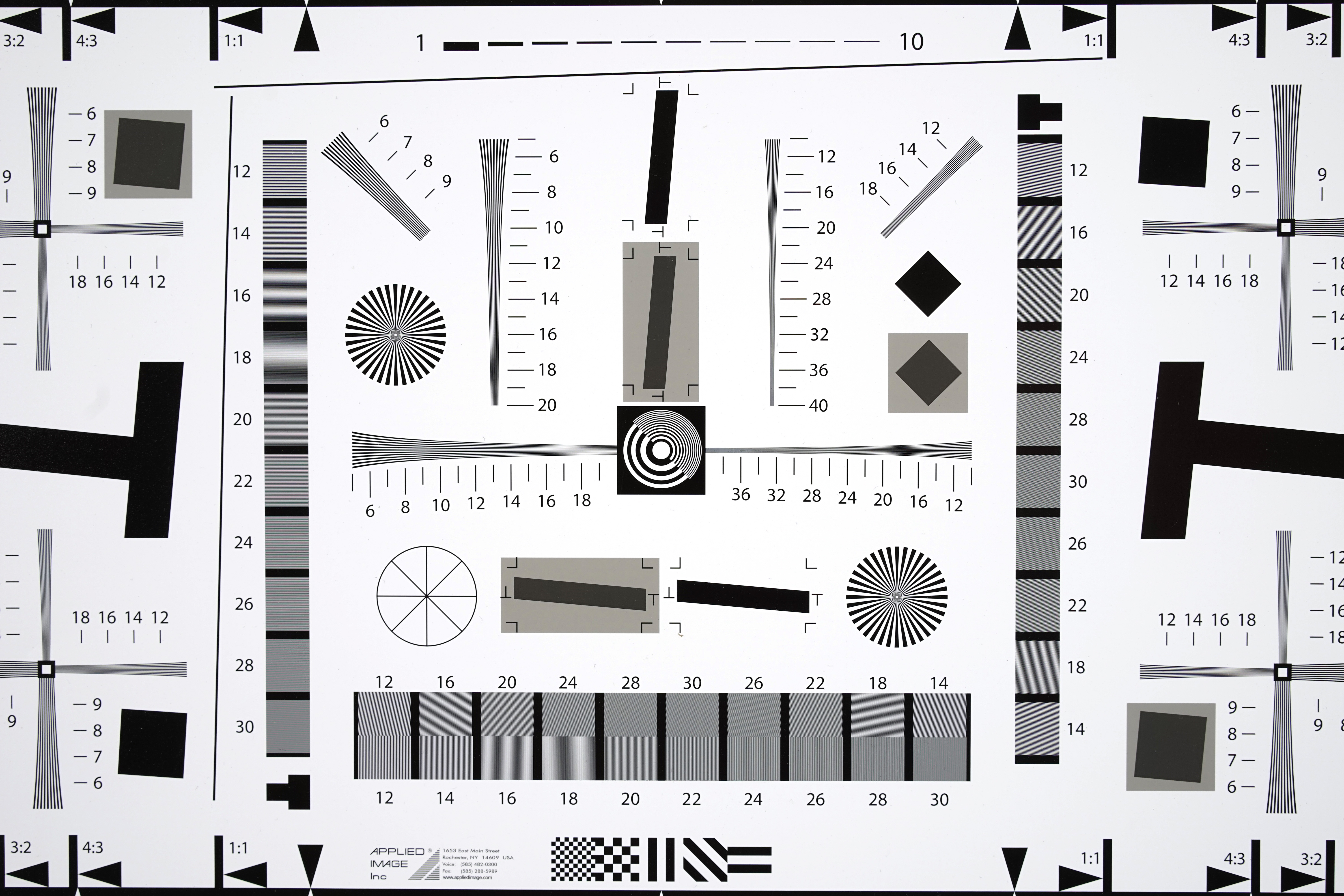 Full ISO 100 image, see the cropped (100%) versions below.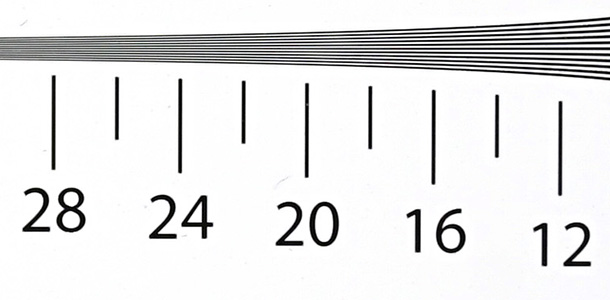 ISO 100, score: 28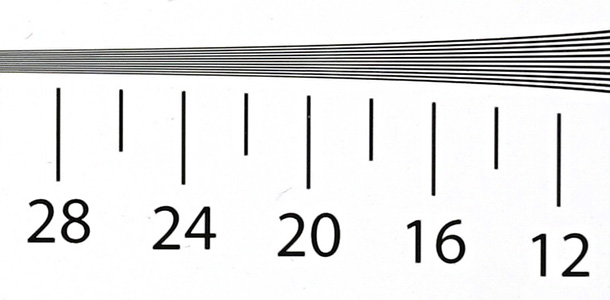 ISO 200, score: 28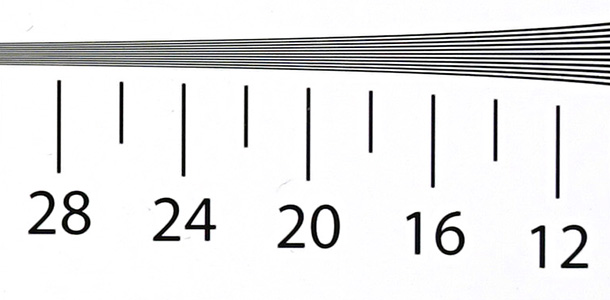 ISO 400, score: 28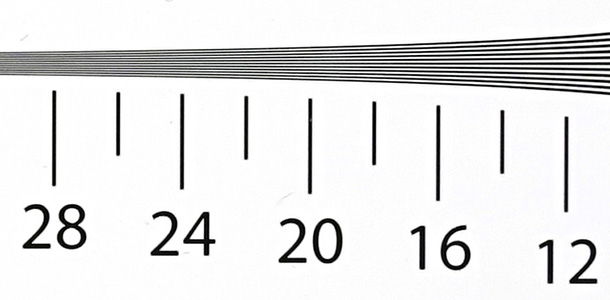 ISO 800, score: 28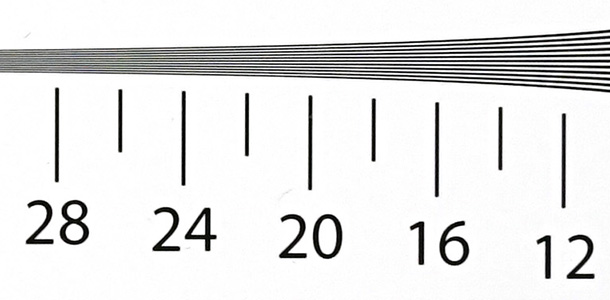 ISO 1600, score: 28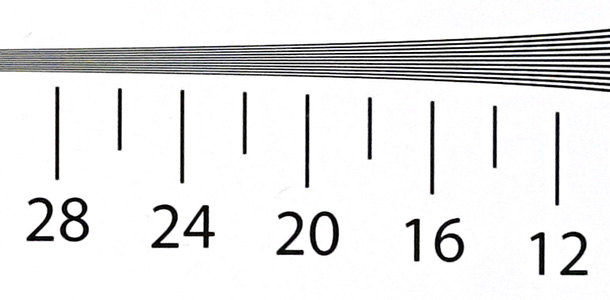 ISO 3200, score: 28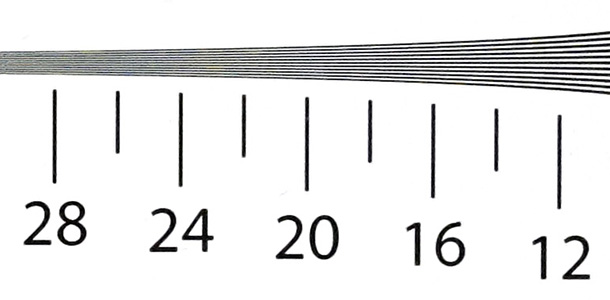 ISO 6400, score: 26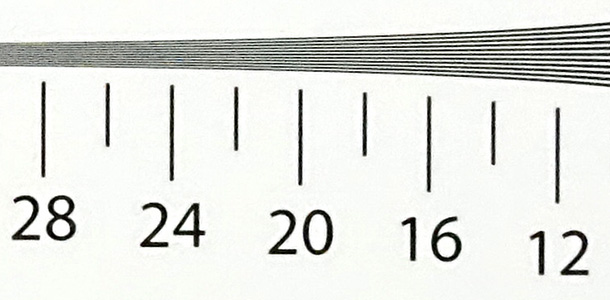 ISO 12800, score: 24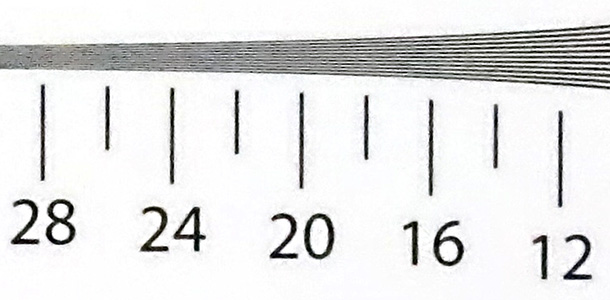 ISO 25600, score: 18
RAW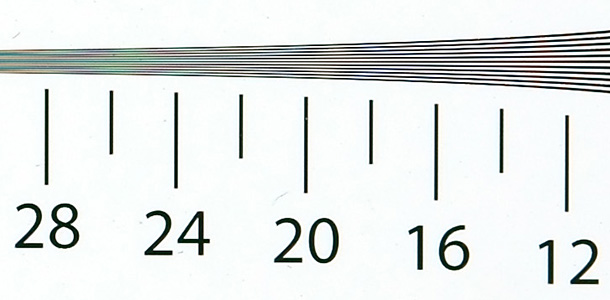 ISO 100, score: 28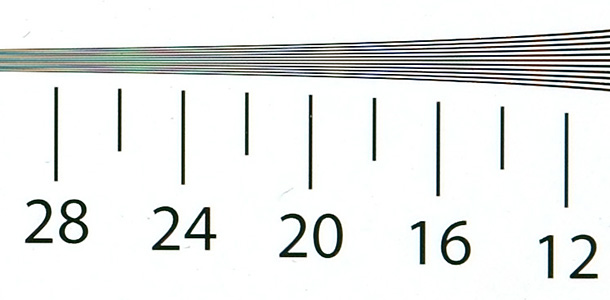 ISO 200, score: 26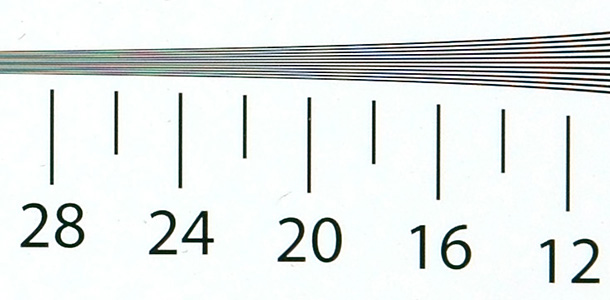 ISO 400, score: 26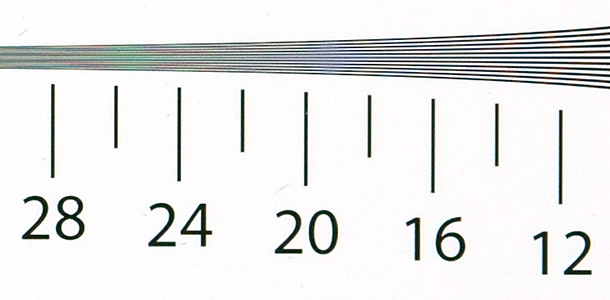 ISO 800, score: 26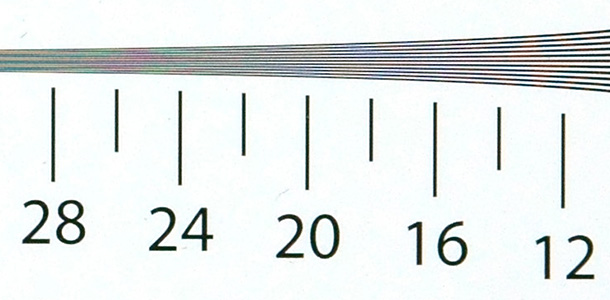 ISO 1600, score: 24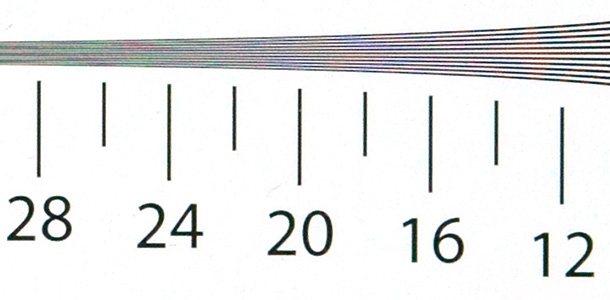 ISO 3200, score: 24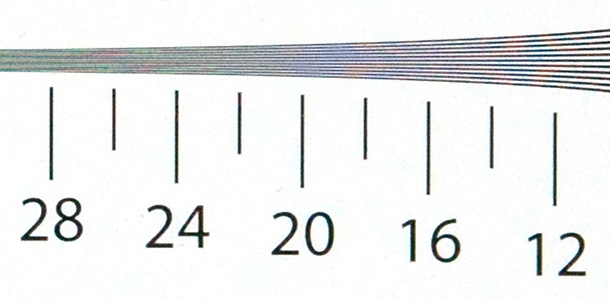 ISO 6400, score: 24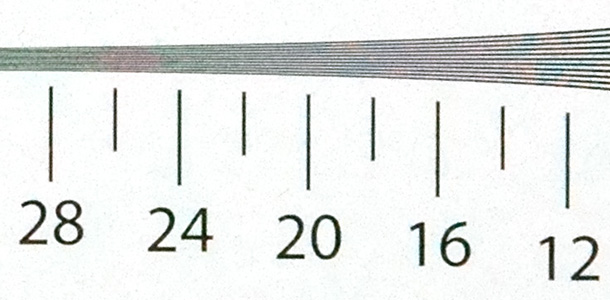 ISO 12800, score: 22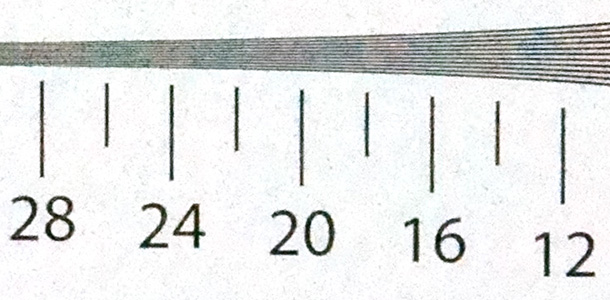 ISO 25600, score: 22
We shoot a specially designed chart in carefully controlled conditions and the resulting images are analysed using DXO Analyzer software to generate the data to produce the graphs below.
A high signal to noise ratio (SNR) indicates a cleaner and better quality image.
For more more details on how to interpret our test data, check out our full explanation of our noise and dynamic range tests.
JPEG signal to noise ratio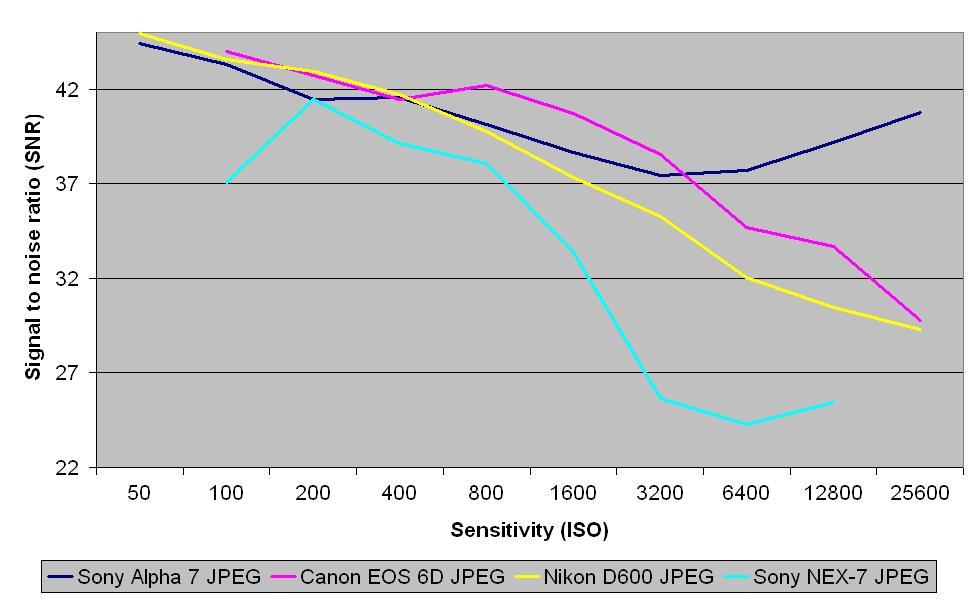 In terms of JPEG signal to noise ratio, the A7 puts in a consistently good performance. It is very close to the Nikon D600 at the expanded ISO 50 setting, while at the standard ISO 100, it's very close to both the D600 and the Canon EOS 6D. At the mid-range (ISO 200-1600) it is beaten by the Canon, but performs better than the Nikon. Once we get into the higher ranges (ISO 3200 and above), the A7 steals the lead comfortably.
Raw signal to noise ratio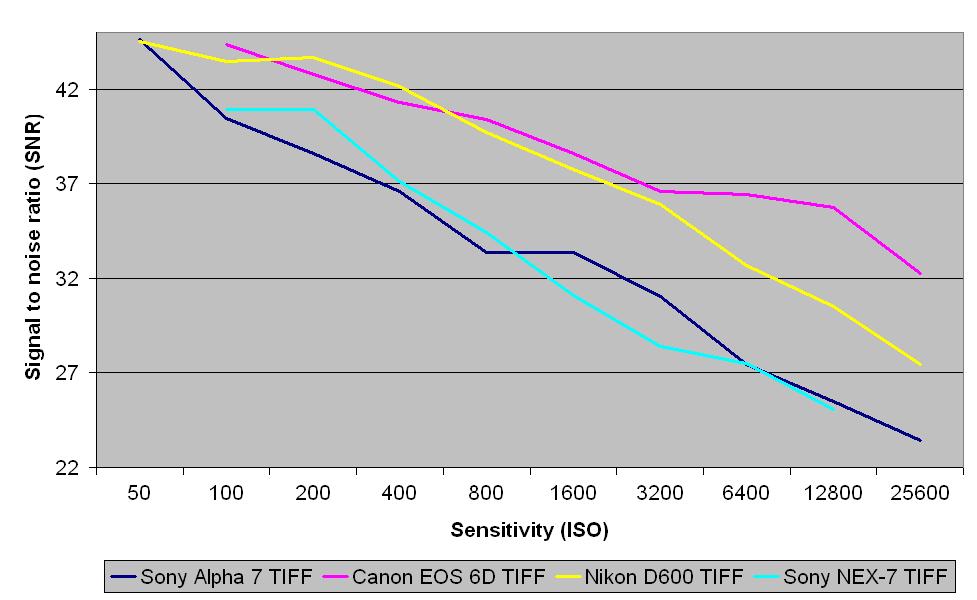 When shooting in raw format, the A7 doesn't fare quite so well. It is below both the Nikon D610 and the Canon EOS 6D throughout the sensitivity range, being more closely matched to the NEX-7 which features an APS-C sensor. This may be indicative of the camera allowing you to fine tune noise control in raw format files though.
JPEG dynamic range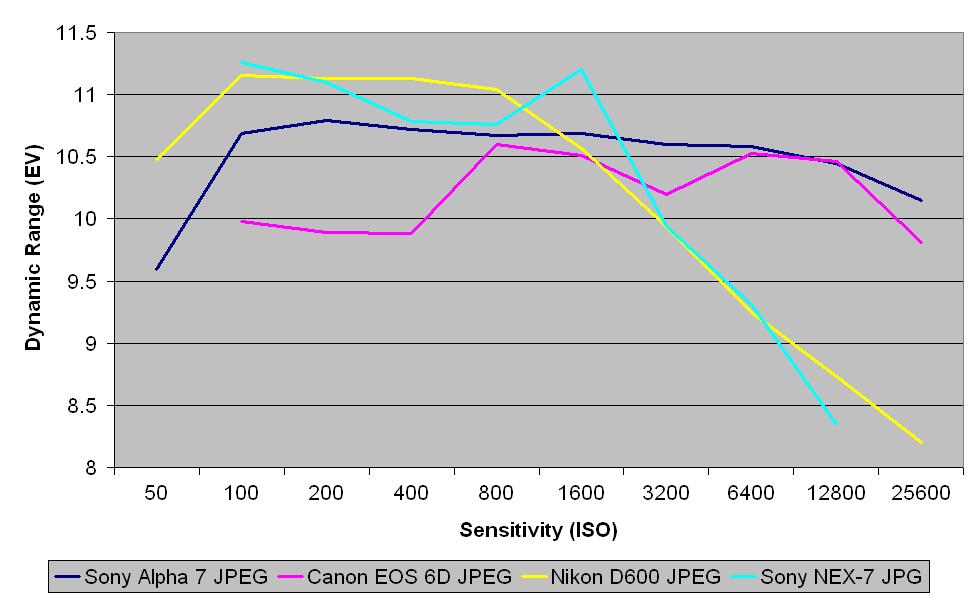 Throughout its native ISO range (ISO 100 -25600), the A7 performs with consistency. Although it doesn't quite match the Nikon D600 at the lower end of the scale, it does beat the Canon EOS 6D. At the higher end of the scale (ISO 1600 and above), the A7 outperforms the other cameras on test.
Raw dynamic range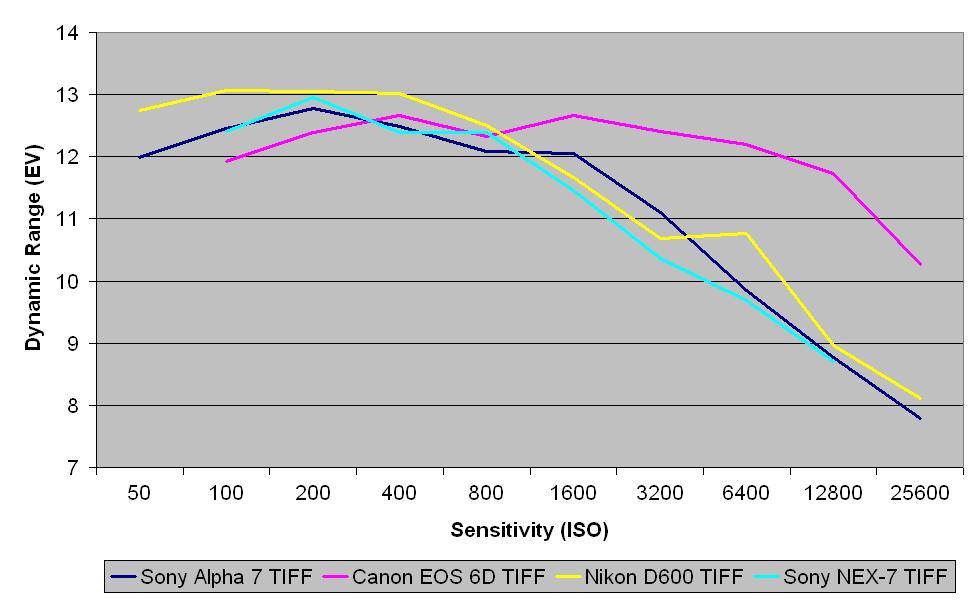 When shooting in raw format, again the A7 is less consistent, which could also be an indication of the control you have over raw files yourself. At the lower end of the scale it is fairly closely matched with both the Nikon D600 and Canon EOS 6D, but it loses out quite significantly to the Canon in the upper reaches of the sensitivity scale.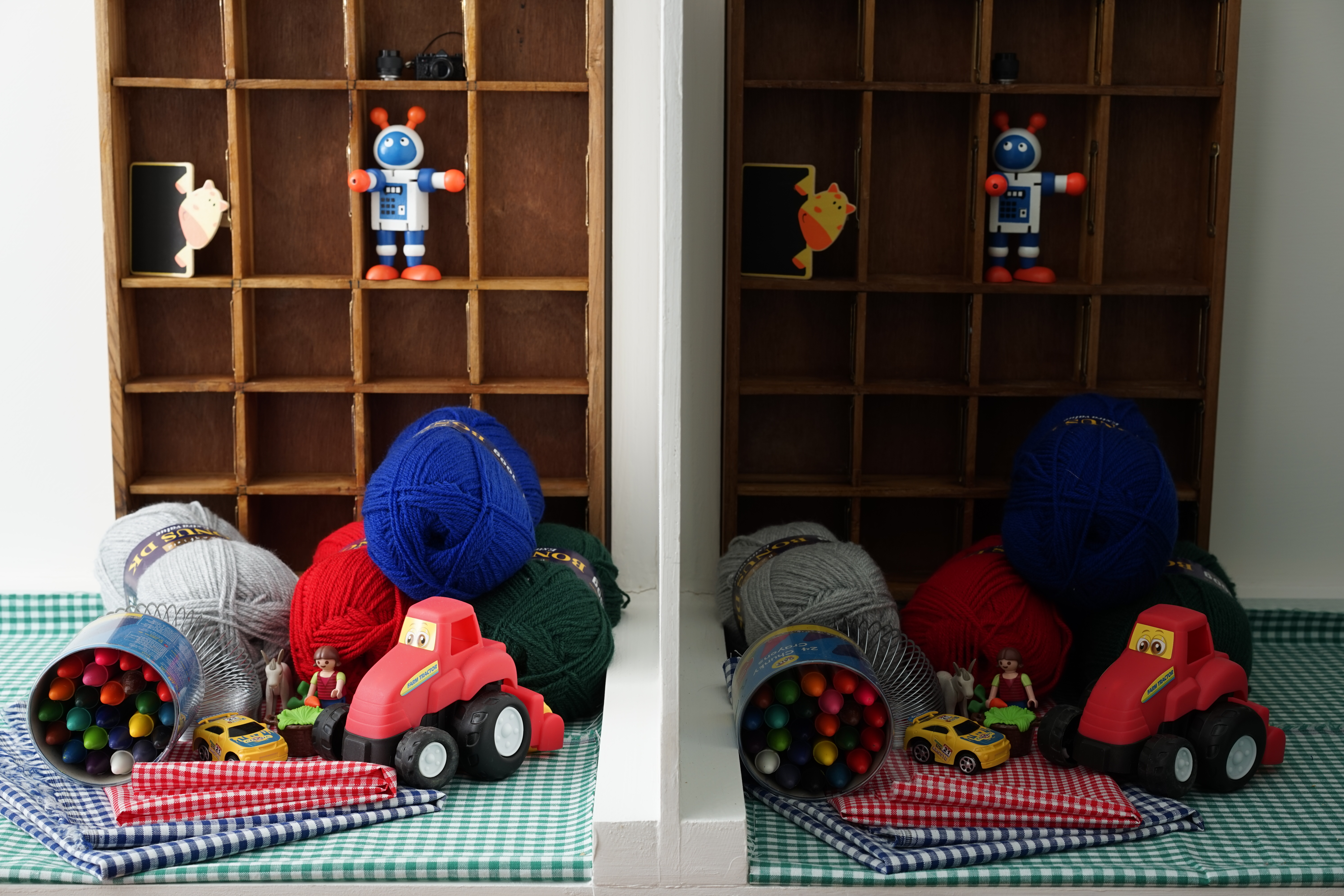 Full ISO 100 image, see the cropped (100%) images below.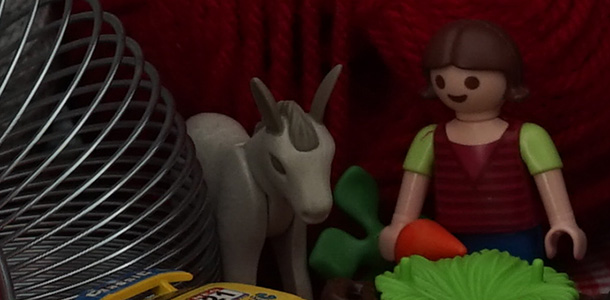 ISO 200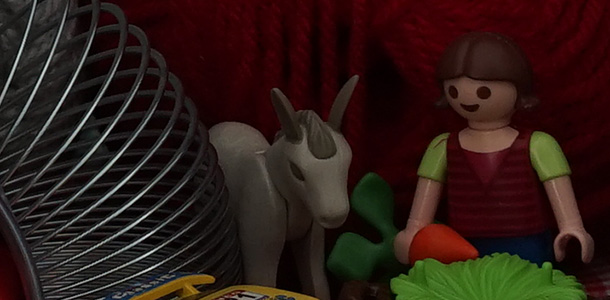 ISO 400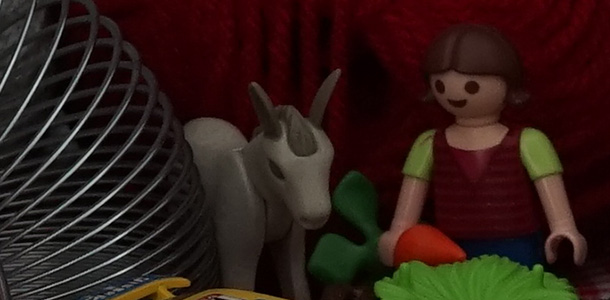 ISO 800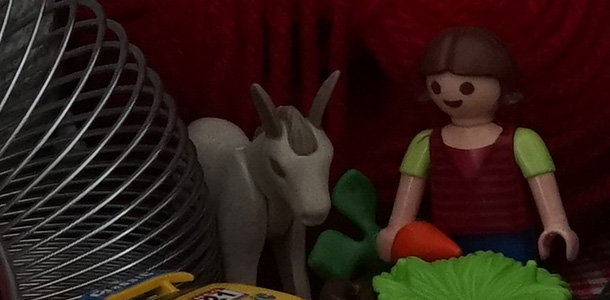 ISO 1600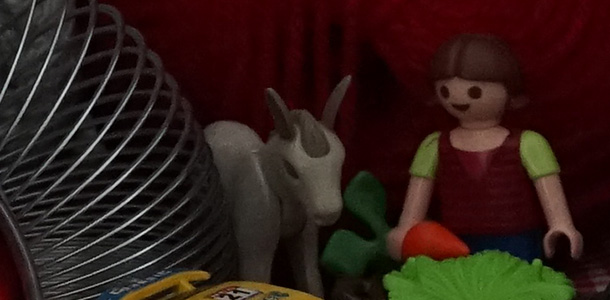 ISO 3200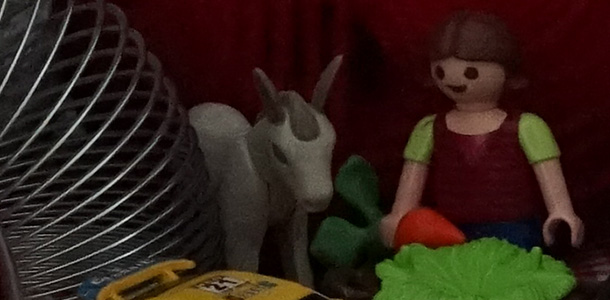 ISO 6400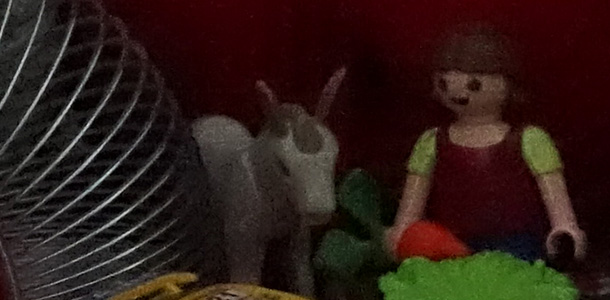 ISO 12800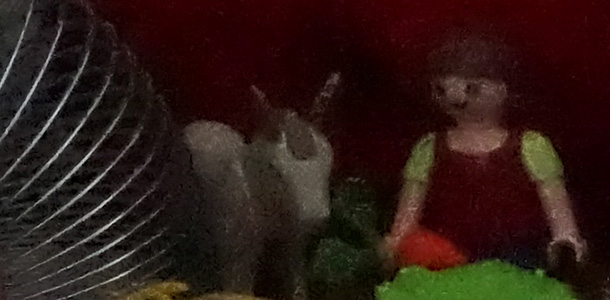 ISO 25600
Raw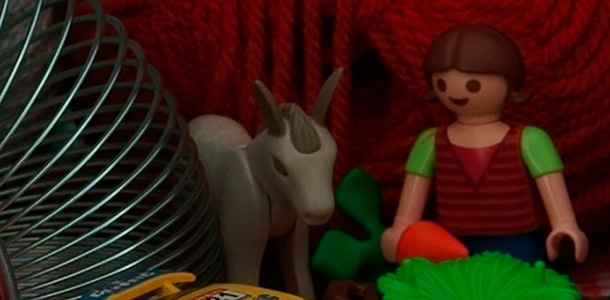 ISO 100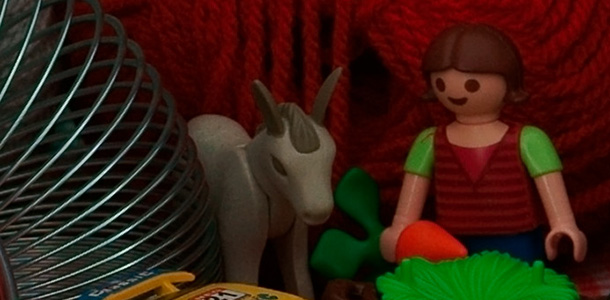 ISO 200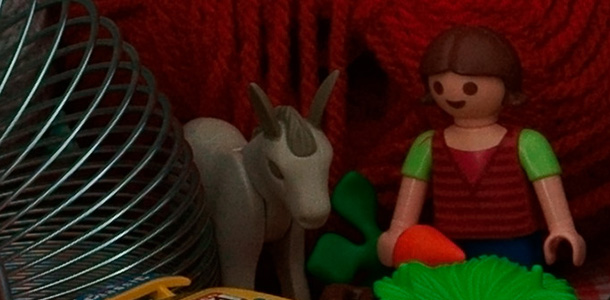 ISO 400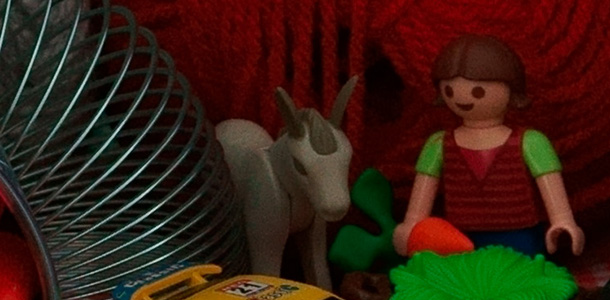 ISO 800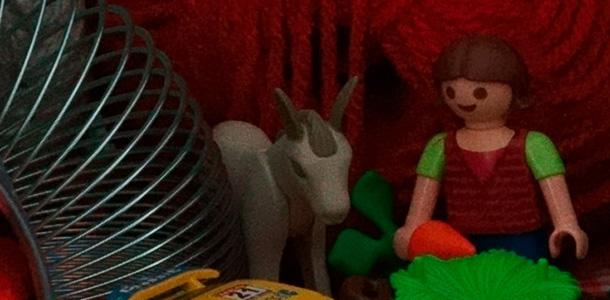 ISO 1600 (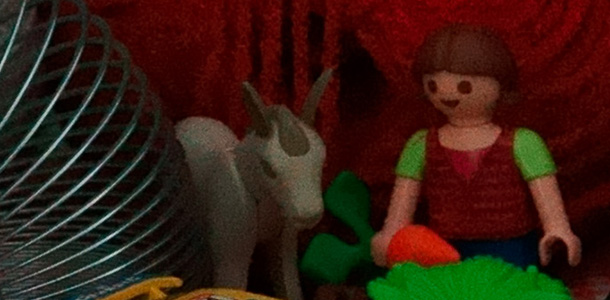 ISO 3200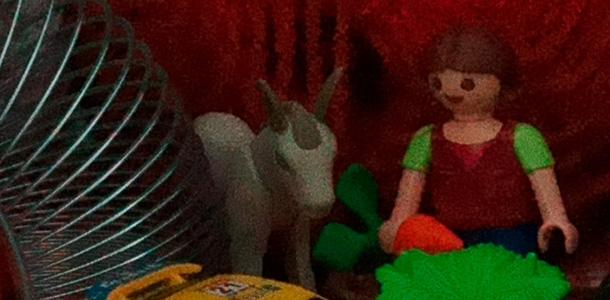 ISO 6400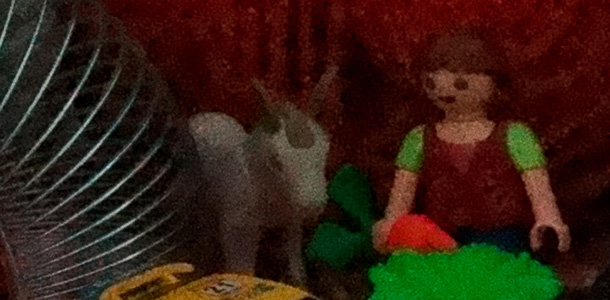 ISO 12800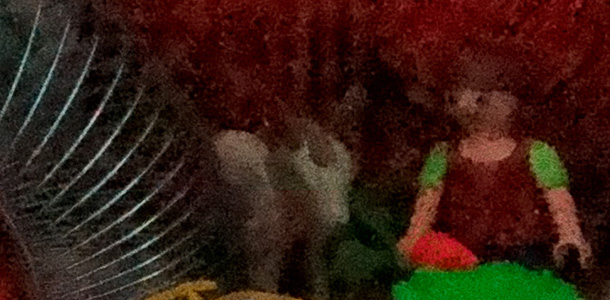 ISO 25600
Shooting at high sensitivities, such as ISO 2500, doesn't present too much of a problem for the A7. Examining the image at 100% does reveal some image smoothing, but sharing and printing at normal sizes is fine.
Generally, the A7's metering system does a decent job, but there may be times when you need to dial in some exposure compensation to produce a balanced exposure. The camera has coped reasonably well with the mixed lighting here.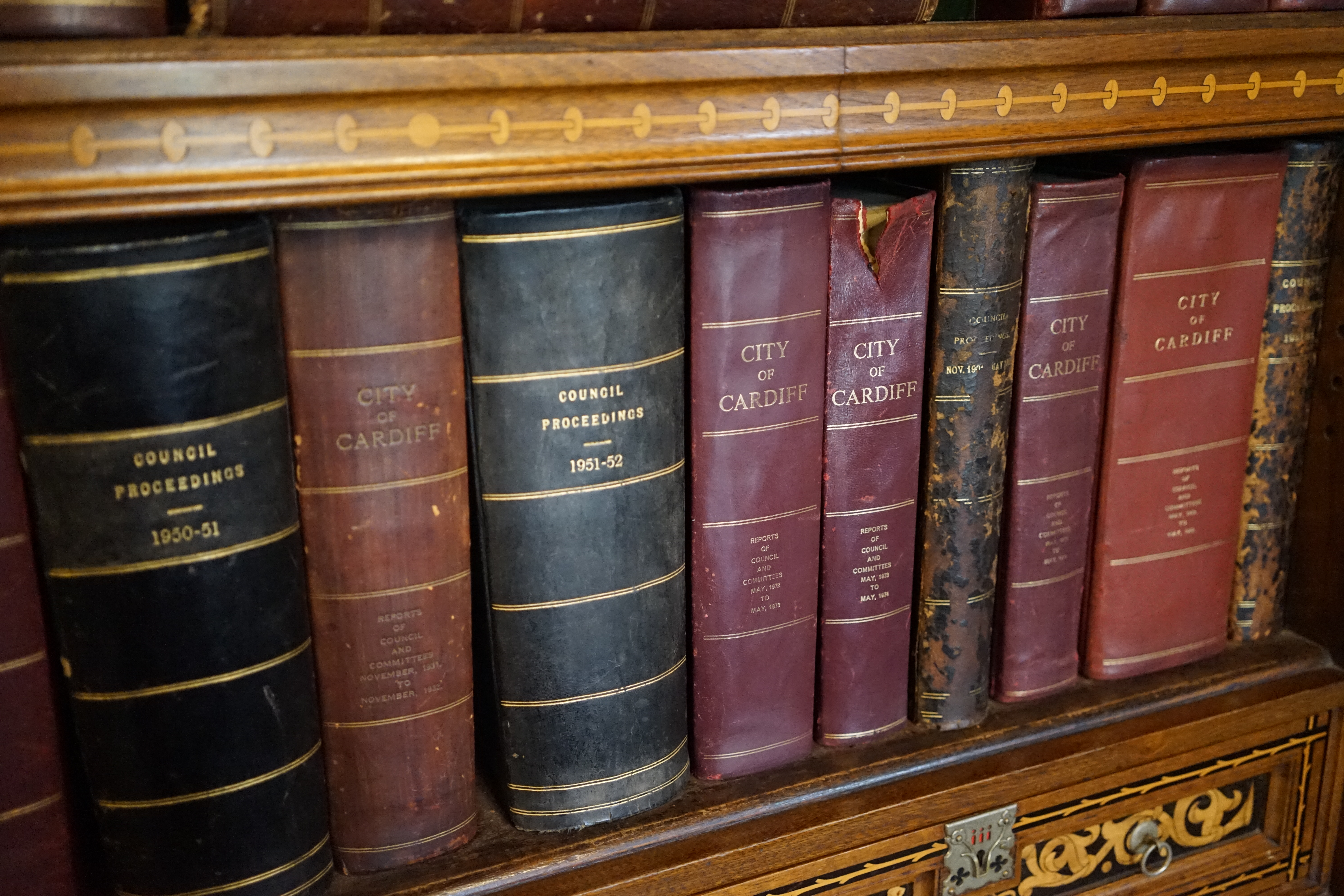 The A7's 24.3 million-pixel sensor is capable of resolving a good amount of fine detail, especially if you use it with the 35mm f/2.8 lens, rather than the 28-50mm kit lens.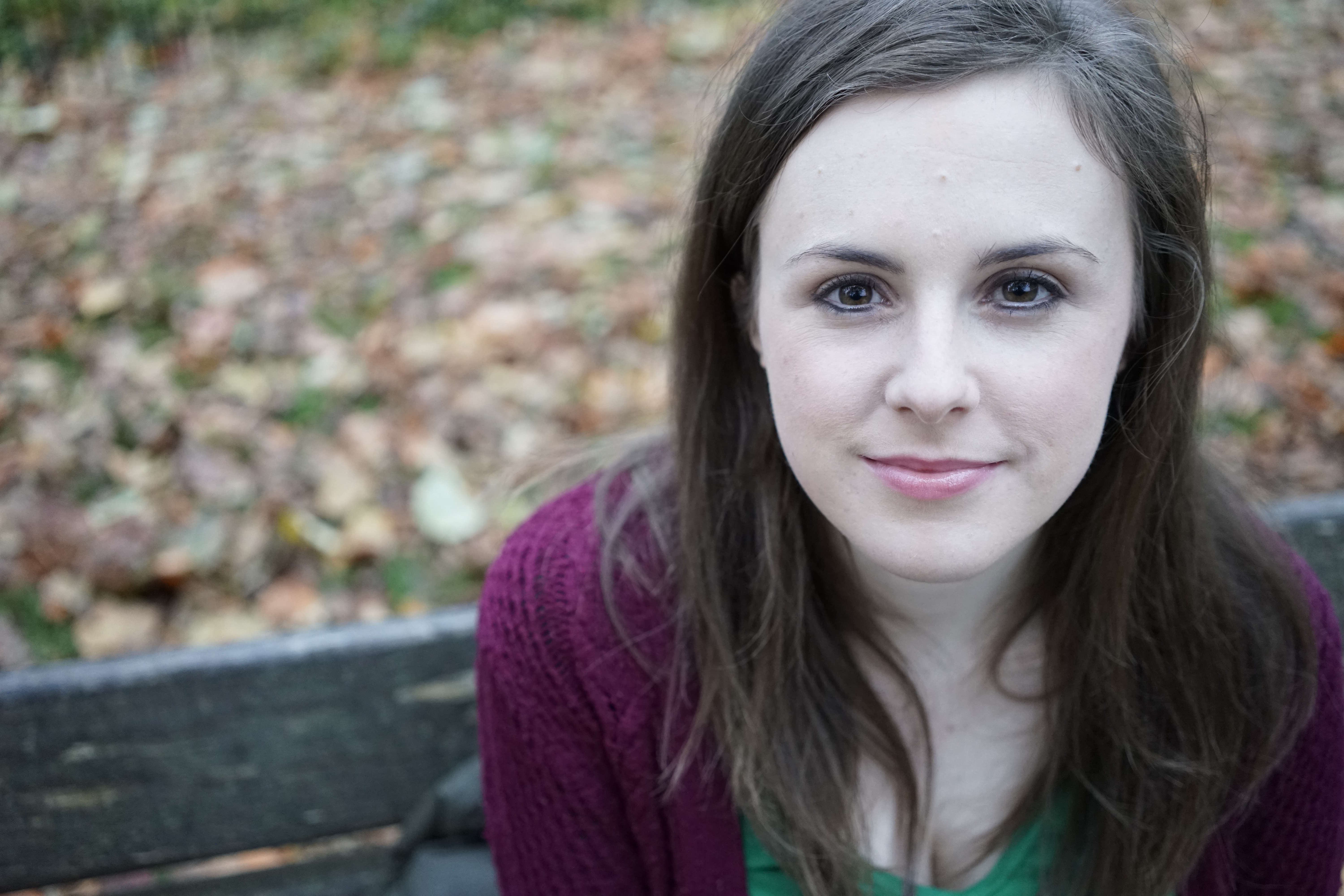 The 35mm f/2.8 is a worthy investment if you can stretch to it because its versatility can cope with portraiture, street work and landscapes.
Other lenses will be available to buy for the FE system soon, including a 55mm f/1.8 lens, which is ideal for portrait and street work.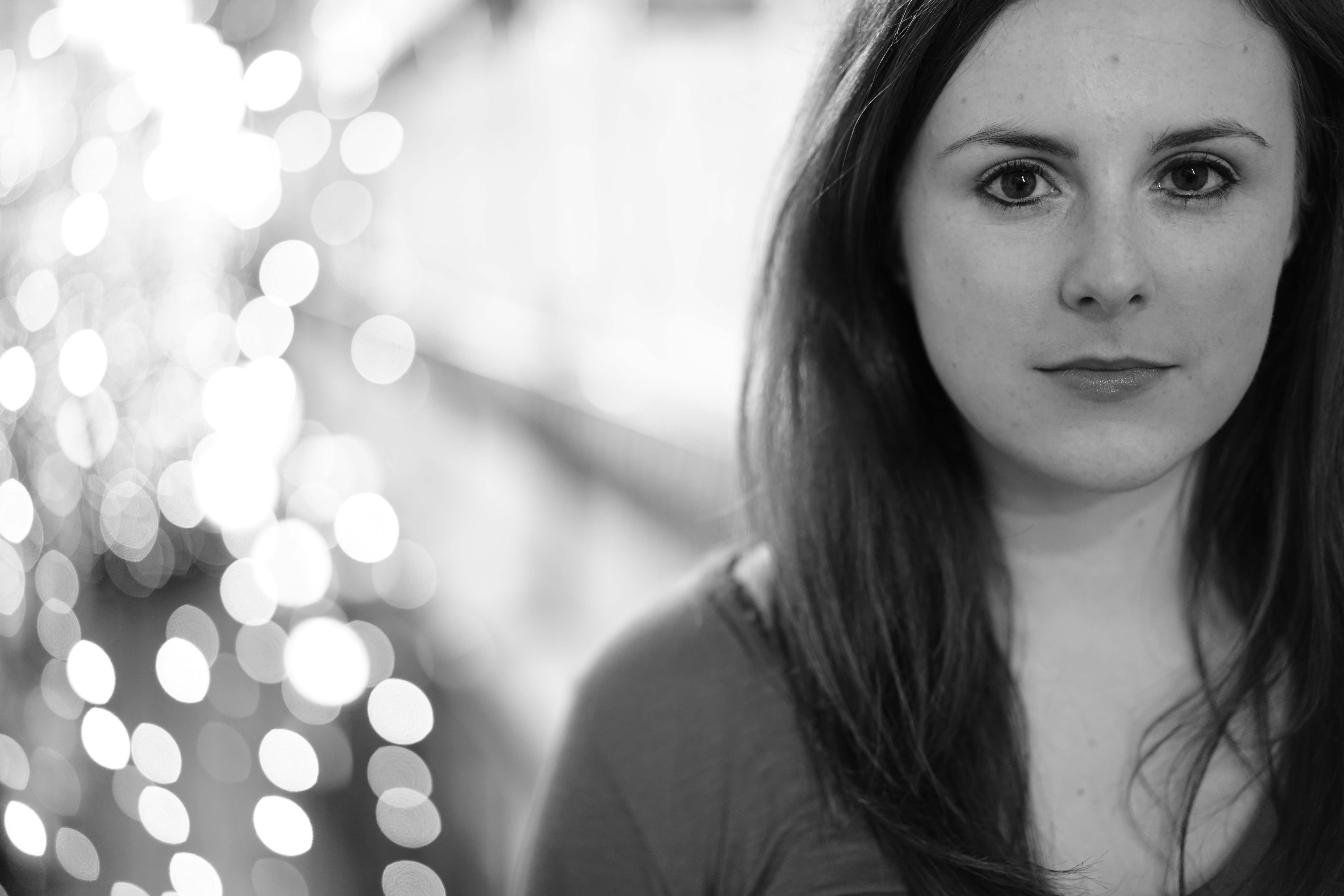 Creative Styles allow you to change the colours of your image while shooting in raw format – helpful if you need a clean version of the image to work with later down the line. This is Black and White, which can also be customised to add extra contrast and sharpness.
The Sweep Panorama mode on the camera allows you to capture wide vistas quickly and easily. If you examine the resulting images at 100% you might find some image smoothing and repeated patterns, but overall the effect is very good.
One of the most appealing things about this new system is its compatibility with existing lenses via various adapters. Not only is there an official Sony adapter for converting Sony A-mount lenses, some third-party manufacturers make adapters that can be used with other brands. This shot was taken with a 24mm f/2.8 Canon lens with Metabones adapter. The adapter allows you to retain full autofocus as well.
Despite its flaws, the 28-70mm kit lens can still be used to take decent shots and it would make a good investment if you're worried about flexibility.
Sony has done it again – introducing a camera that's ahead of the curve. What everybody will probably start to ask now is… is this the end of the traditional DSLR?
Although it's true to say that the Alpha 7 is far from perfect, what it represents is a genuine step forward in camera technology that could represent a big shift in the way we view interchangeable lens cameras.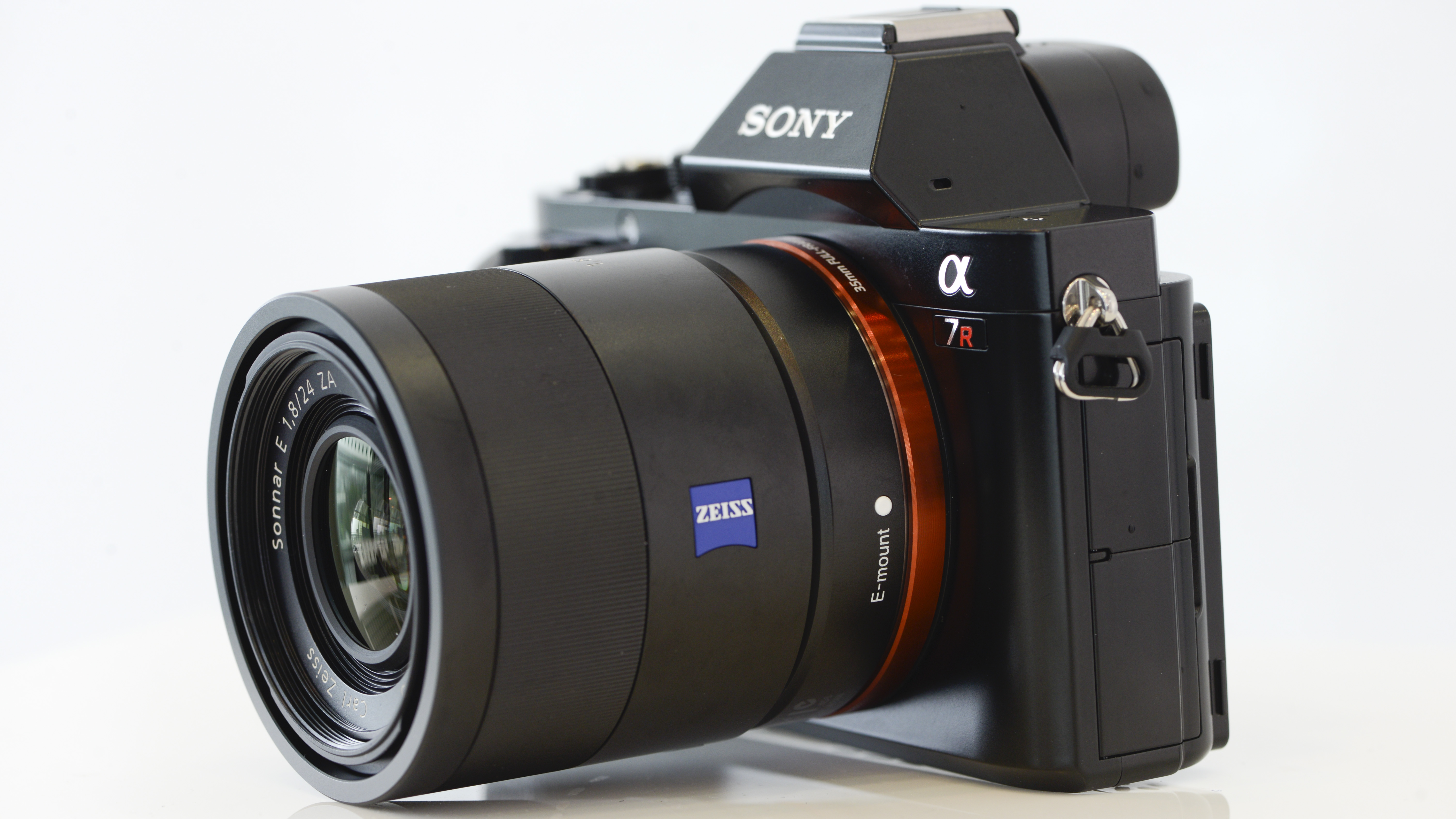 Image quality is fantastic, as we had hoped for and expected, although the 28-70mm kit lens leaves a lot to be desired. We'd recommend sticking with prime lenses, but if you feel that you would miss the flexibility that a zoom would provide, the included lens is capable of producing some nice pictures too.
For now the lens range is a little limited to consider this a fully grown system, and we'll be keen to test out the upcoming 24-70mm f/2.8 Zeiss lens. It won't be cheap, but it should be strokes ahead of the budget 28-70mm Sony lens. That said, for anyone thinking of switching from other cameras or brands, this is a good alternative to consider. Not only is there a dedicated A-mount lens adapter available from Sony for other A-mount optics, third-party manufacturers such as Metabones offer converters for Canon and Nikon. It makes the A7 even more appealing, since you don't have to ditch your existing lenses if you have quite a few.
The addition of Wi-Fi and NFC connectivity brings this camera right up to date and it's great to be able to quickly ping across a shot to your smartphone for instant uploading to a social networking site.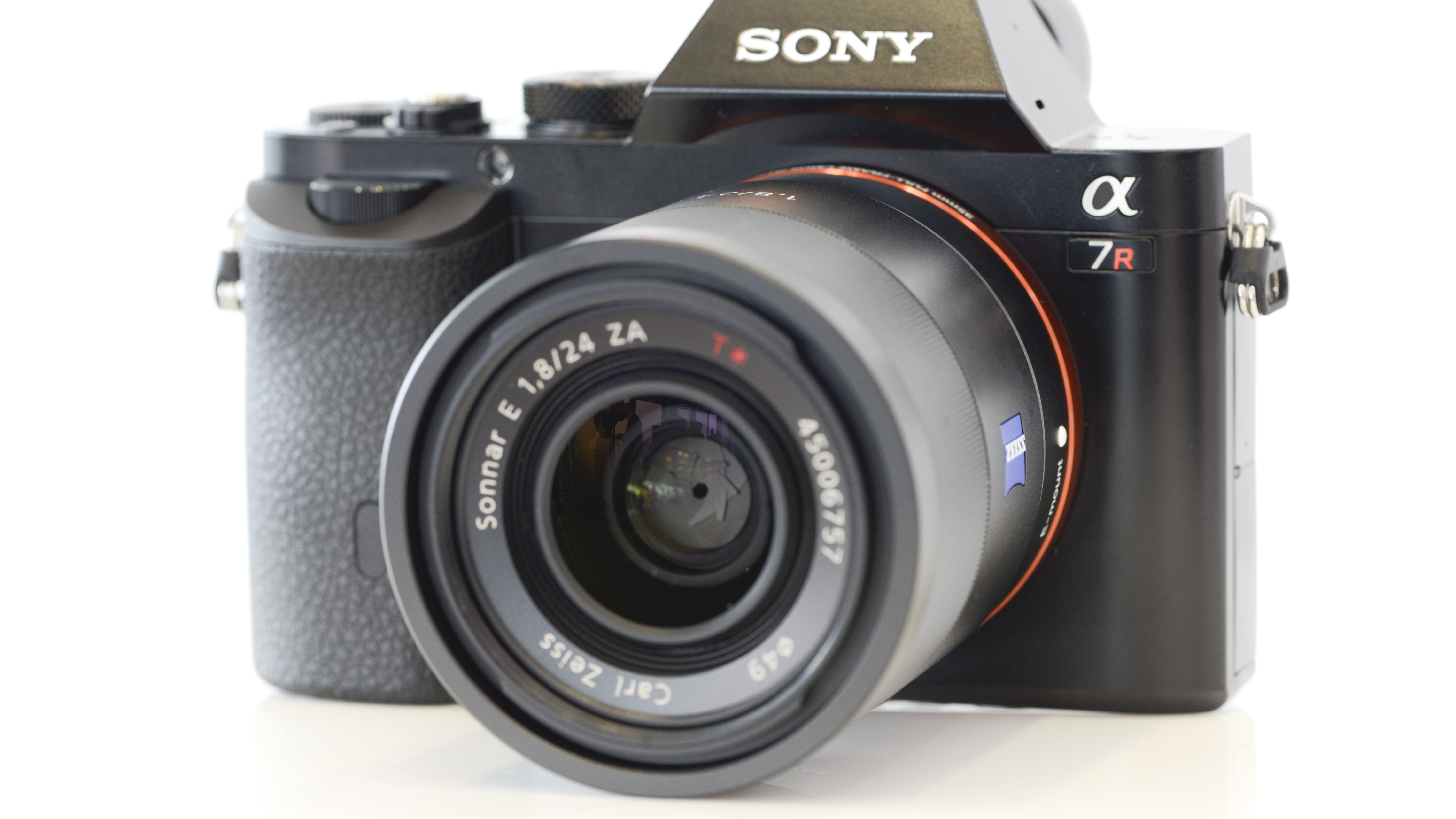 However, this does lead us to the one glaring omission that seems to inexplicably blight a lot of Sony cameras – the lack of a touchscreen. It's true that it's not absolutely crucial to have one for operability, but when you consider that setting the autofocus point is a little more laborious than it really should be, a touchscreen would solve that problem instantly. It would also be useful when reviewing images in playback too. That aside, it's a good performer, and it's nice to see a tilting device on a full-frame model – note that Sony is the only brand to offer it.
There's also a huge problem with battery life. Because this camera has the full-frame sensor, wonderful screen and EVF to constantly power, the battery life is poor to say the least, especially when you compare it to other full-frame cameras, specifically DSLRs. It's pretty much a given that you will need at least one spare battery to consider this useable for a day's worth of shooting.
We liked
The absolute best thing about the A7 is what it offers for the price. It's fantastic to have a full-frame sensor in something so small and affordable. When the system grows a little more, this will be a more serious contender for mainstream photographers, and it's nice to see something shaking up the market a bit.
We disliked
The battery is the biggest letdown of this camera. Like other Sony cameras before it, most notably the RX1 (and RX1R), it's just not good enough for something aimed at enthusiast photographers. It's lucky the batteries are small, so carrying around extras shouldn't take up too much pocket room.
Final Verdict
The Sony A7 is a fantastic camera, there's no doubt about that. For the price and size, you can't really beat it. But it does feel a little unfinished at the moment. Together with its A7R sibling, the A7 feels like a camera for early adopters – it's a fantastic leap forward and we're really looking forward to the next generation, where hopefully, some of the criticisms will be addressed. By that time, the system should have also grown into a more serious contender too. Hats off to Sony for the innovation.