Best Canon lenses 2018: 10 high-end optics for full-frame Canon DSLRs
Best Canon lenses 2018: 10 high-end optics for full-frame Canon DSLRs. The sheer resolving power of full-frame Canon EOS bodies like the EOS 5DS and 5DS R, with their 50.6MP image sensors, demand the utmost sharpness from lenses, while even the EOS 5D Mark IV and EOS 6D Mark II have fairly high megapixel counts, at 30.4MP and 26.2MP respectively. But there's more to a good lens than just its ability to resolve fine detail.
Handling is a key factor in how a lens performs in real-world shooting. You'll need fast and accurate autofocus, to ensure that you nail defining moments in anything from a fleeting expression in portraiture to action sports and wildlife photography. In handheld shooting, meanwhile, effective image stabilization can make an enormous difference.
And outright image quality is about much more than sharpness. Good contrast is highly desirable, even when shooting wide-open at the largest available aperture. Other attributes we tend to look for are minimal distortion and color fringing, good resistance to ghosting and flare, and reasonably low vignetting (darkened image corners). Increasingly, shortfalls in various aspects of image quality can be corrected in-camera, or in post-processing, but that's a poor substitute for great optical quality.
Image quality
Other facets of image quality are harder to quantify, like 'bokeh' (the attractiveness of defocused areas within images). It's a critical aspect of performance for 'fast' lenses that enable a tight depth of field, as well as enabling you to retain moderate shutter speeds even under dull lighting without the need to really push your camera's ISO setting.
Unlike with the systems of some other manufacturers, including Nikon and Sony, you can't mount a lens that's designed for a Canon APS-C format body on a full-frame camera. Shooting in 'crop mode' is therefore off the menu, and you'll need to invest in the right type of lenses. So where Canon, Sigma and Tamron classify their APS-C format lenses as EF-S, DC and Di-II respectively, you'll need Canon EF, Sigma DG or Tamron Di lenses for a full-frame body.
It's certainly not always the case that own-brand Canon lenses outperform competitors from independent manufacturers like Sigma and Tamron. Indeed, some of the latest lenses launched by the independents are simply superb, while considerably undercutting Canon glass for price.
Based on our extensive lab tests and 'real-world' testing, here's our top-10 list of lenses that cover a wide range of popular categories, as well as great-value alternatives to suit tighter budgets.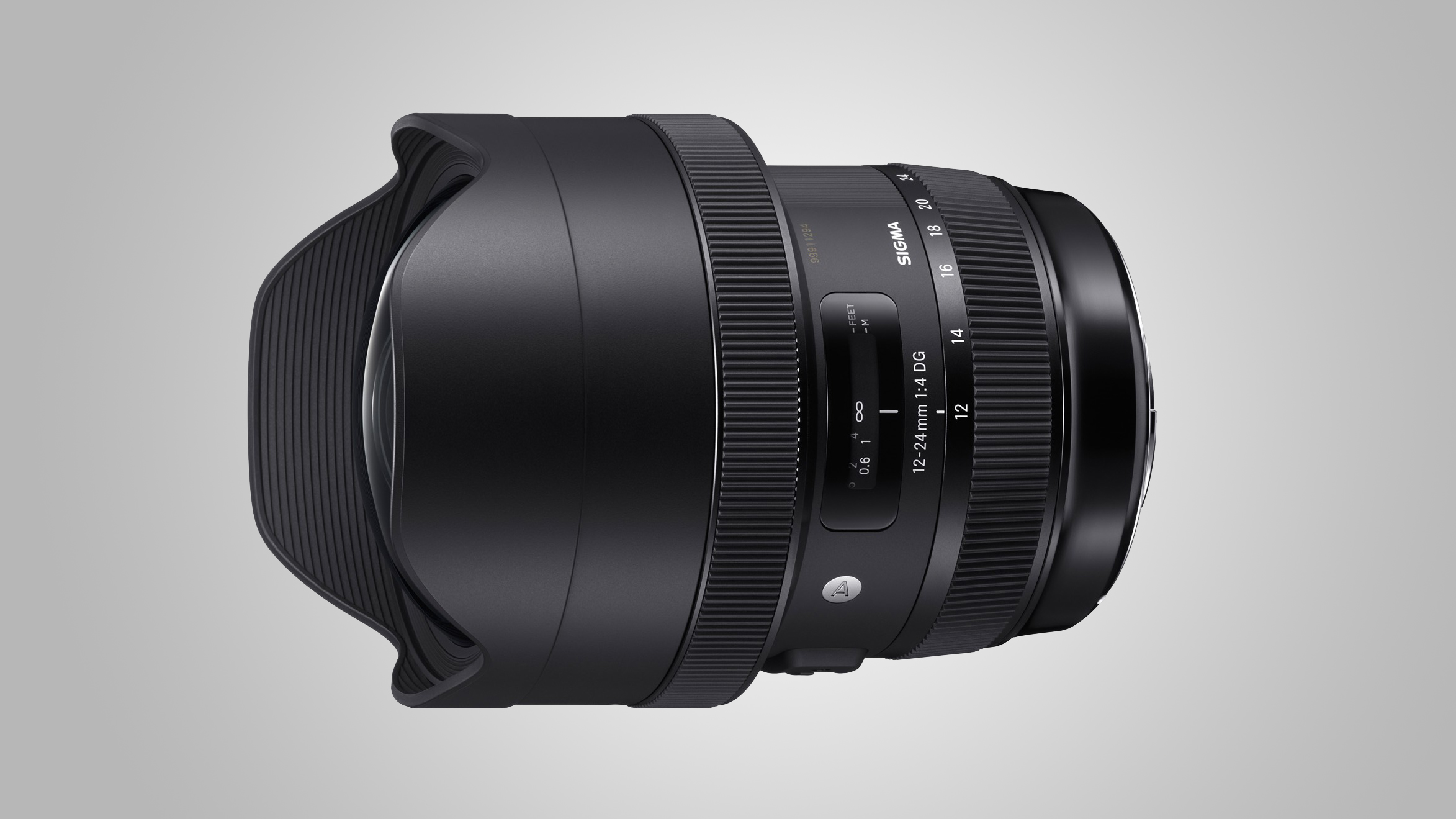 Canon's EF 11-24mm lens reigns supreme as the most wide-angle zoom on the market, unless you go fisheye. However, this Sigma comes so close that you'll hardly notice the difference, and it costs about half the price. Compared with the time-honoured Sigma 12-24mm II, the more recent 'Art' edition of the lens has upgraded optics, with an extra-large-diameter aspherical element at the front, plus five top-quality FLD (Fluorite-equivalent Low Dispersion) elements. Fluorine coatings are applied to the front and rear elements, and the mounting plate gains a weather seal ring. The autofocus system is revamped and noticeably faster, and the new lens switches to a constant-aperture design. From an image quality standpoint, sharpness and control of distortions are excellent, and represent considerable improvements over the previous edition. As with many ultra-wide lenses the hood is built-in, offering physical protection to the bulbous front element. However, this means you can't easily fit filters, unless you go for a system like the Lee Filters SW150 Mk II.
Great-value option: Tamron SP 15-30mm f/2.8 Di VC USD
It's not quite as ultra-wide as the Sigma, but this Tamron undercuts it for cost while adding optical stabilization and a faster f/2.8 aperture rating.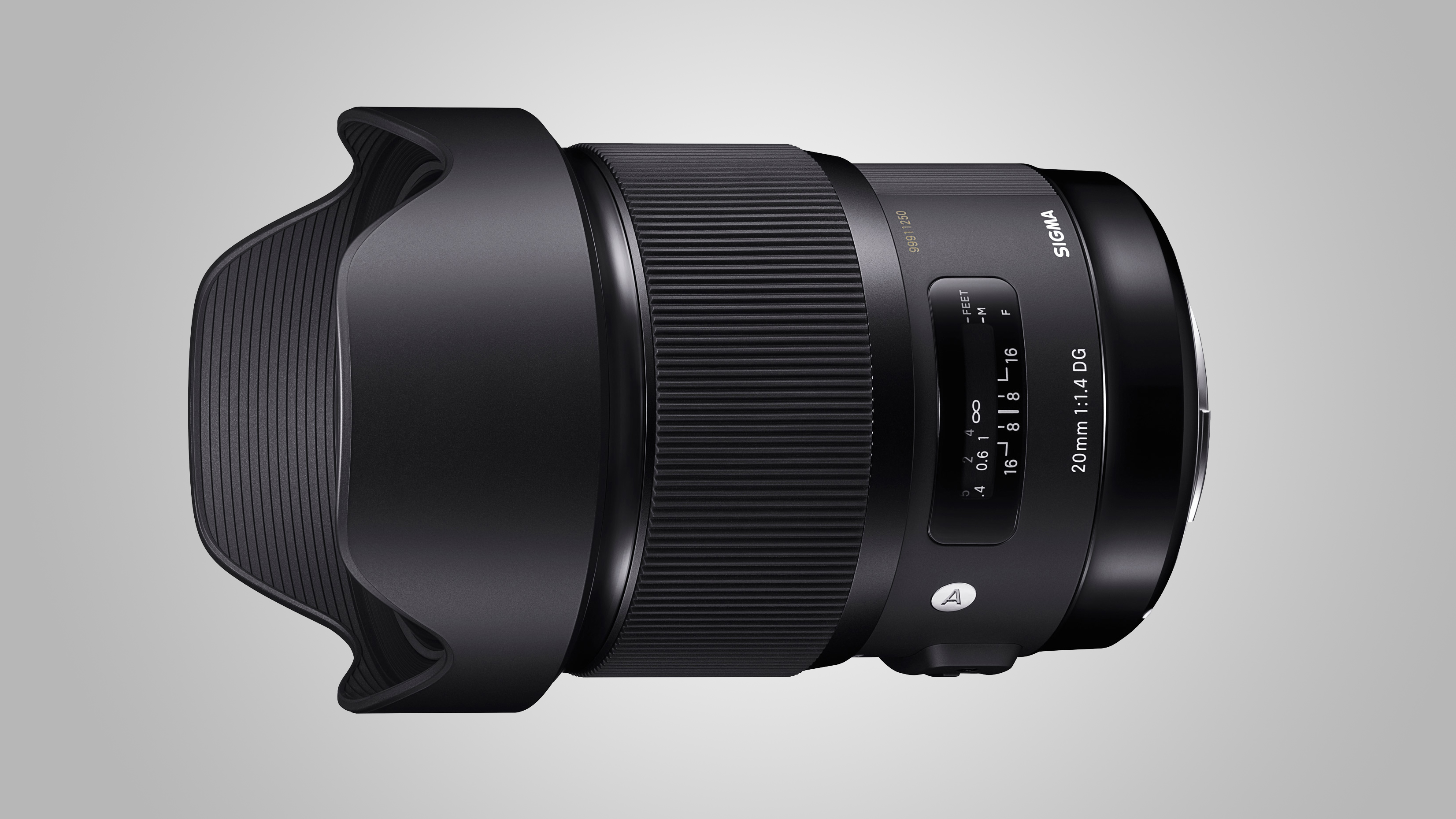 Sigma's 'Art' lenses promise to unleash photographers' creative potential, delivering excellent image quality and fast aperture ratings. There's a large selection of f/1.4 primes in the lineup, including 20mm, 24mm, 35mm, 50mm and 85mm lenses to choose from. This 20mm is not only the widest-angle f/1.4 optic in the range (there's also a 14mm f/1.8 lens), but is remarkable in combining such a wide aperture with such a short focal length. The no-compromise design and superlative image quality are enabled by an extra-large-diameter aspherical lens; this makes for an undeniably chunky and heavy build, but it's a feast of a lens.
Great-value option: Irix 15mm f/2.4 Firefly
It lacks autofocus, but this is a fabulous manual-focus lens that's beautifully built and a real joy to use. The 'Blackstone' edition adds a couple of extra luxuries, but the Firefly is unbeatable value.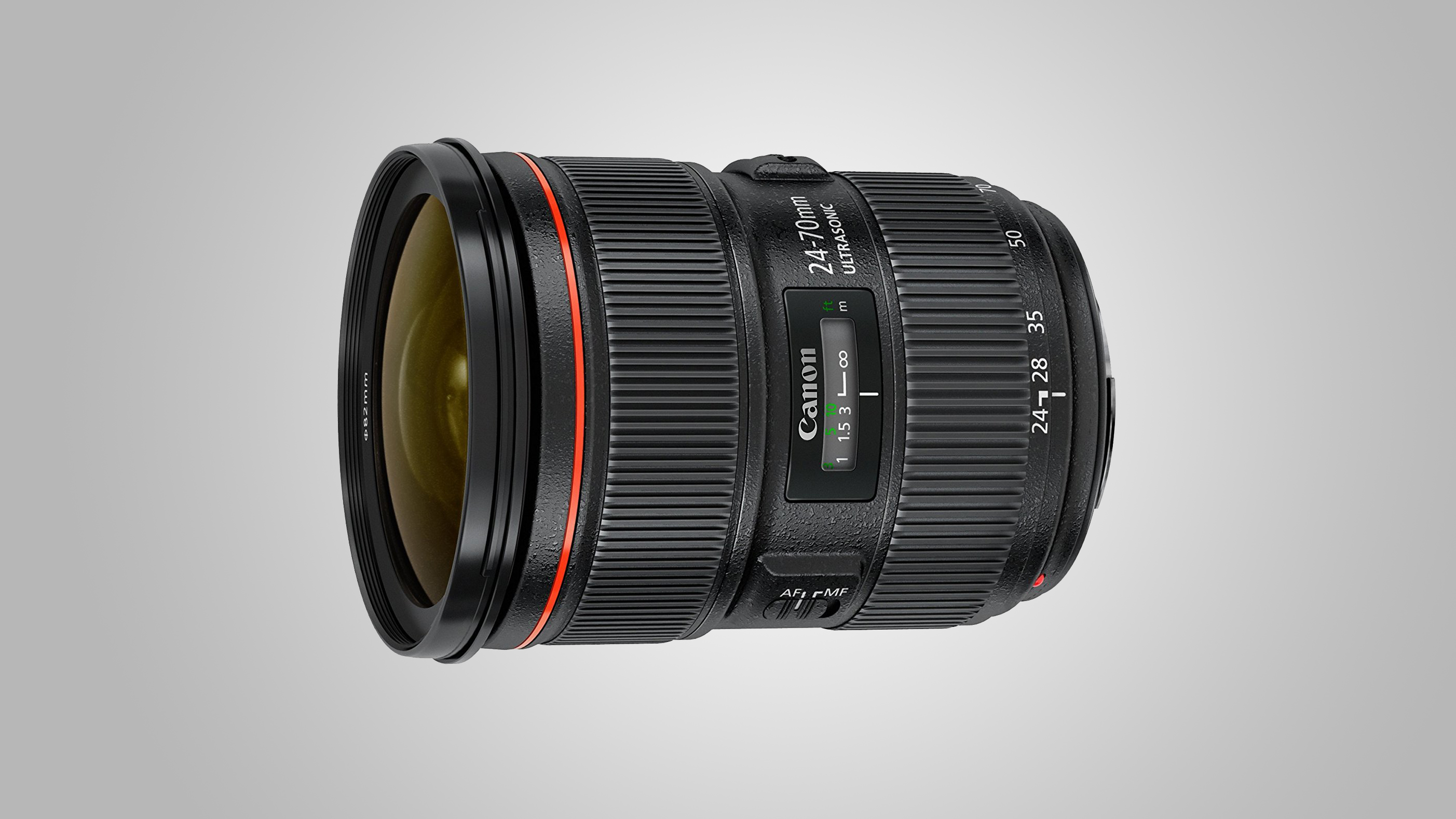 After 10 years of faithful service, the original edition of this lens was replaced by the Mk II in 2012. As range-topping L-series lenses, both featured weather seals, but the newer version boasted stronger build quality and a string of optical enhancements; to name but a few, the Mk II bumps up the number of aspherical elements from two to three and has two rather than one UD elements, plus a new Super UD element, and an extra diaphragm blade to give a more well-rounded aperture. It's super-sharp and particularly rich in contrast but, unlike recently launched competitors from both Sigma and Tamron, lacks image stabilization.
Great-value option: Tamron SP 24-70mm f/2.8 Di VC USD G2
The G2 (Generation 2) edition of Tamron's 24-70mm lens combines excellent image quality with a tough build, great handling and image stabilization, the latter of which is lacking in the Canon lens. The original edition of Tamron's 24-70mm f/2.8 stabilized lens is also still on sale, and rather less expensive to buy.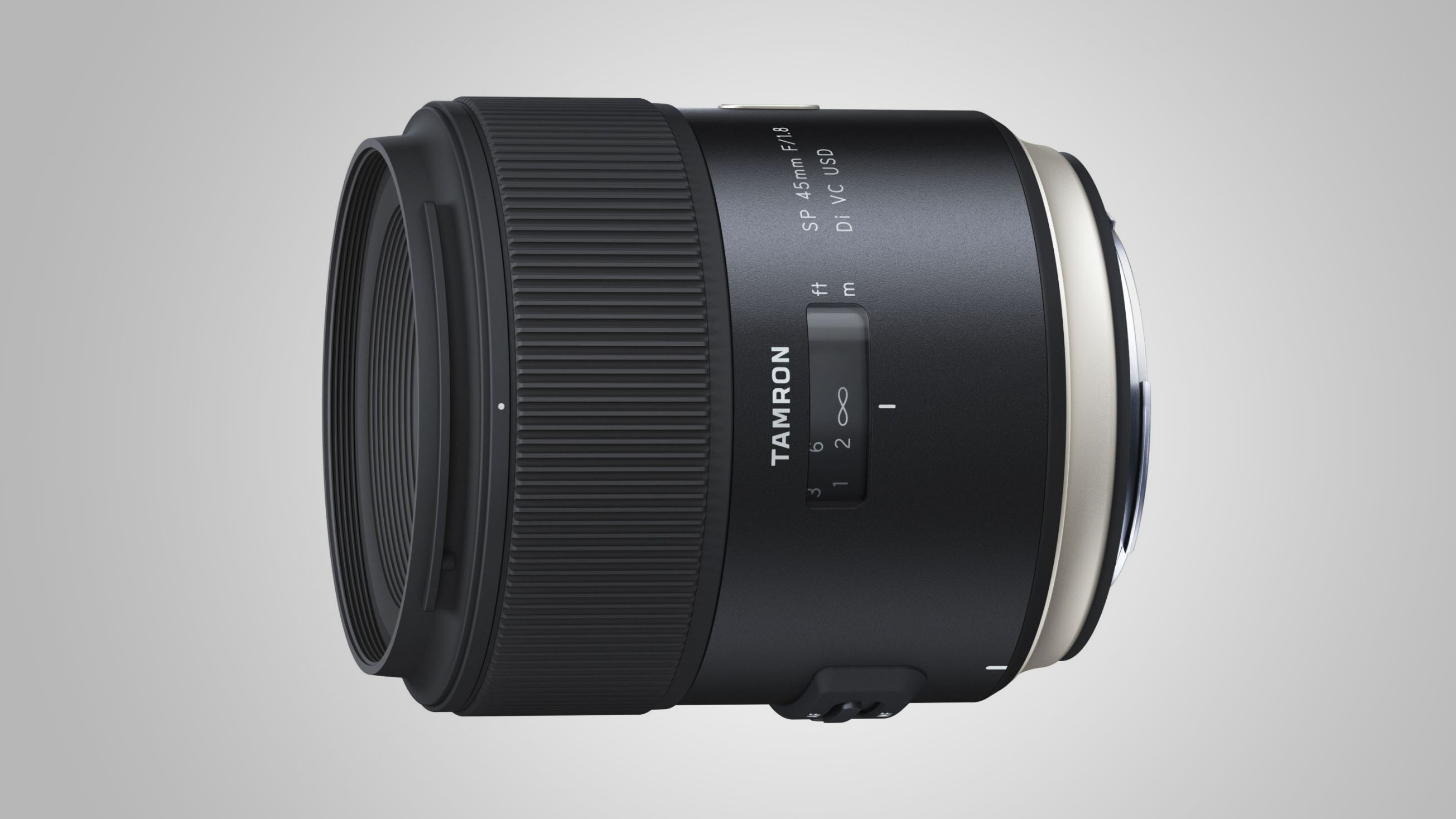 Photographers looking for a top-quality standard prime for Canon full-frame cameras are usually torn between the somewhat basic and old-fashioned EF 50mm f/1.4 USM, and the outrageously 'fast', eye-wateringly expensive EF 50mm f/1.2L USM. The Sigma 50mm f/1.4 DG HSM | A is ultimately a better choice than both of them for performance and value, but this Tamron wins out for everyday shooting. It loses two-thirds of an f/stop in aperture rating compared with the Sigma, but is a much more manageable size and weight, and features image stabilization. You could argue that you don't really need stabilization in such a 'fast' lens, but we disagree. Standard primes are often used in preference to zoom lenses on account of their excellent sharpness and minimal distortion, not just for their faster apertures; you might well want to dial in a medium or narrow aperture setting to extend the depth of field, and this is where stabilization can be a huge help in handheld shooting.
Great-value option: Canon EF 50mm f/1.8 STM
In both our lab tests and real-world shooting experience, the performance of this humble, entry-level lens pretty much matches that of the pricier Canon f/1.4. It's a crazily good lens at the price.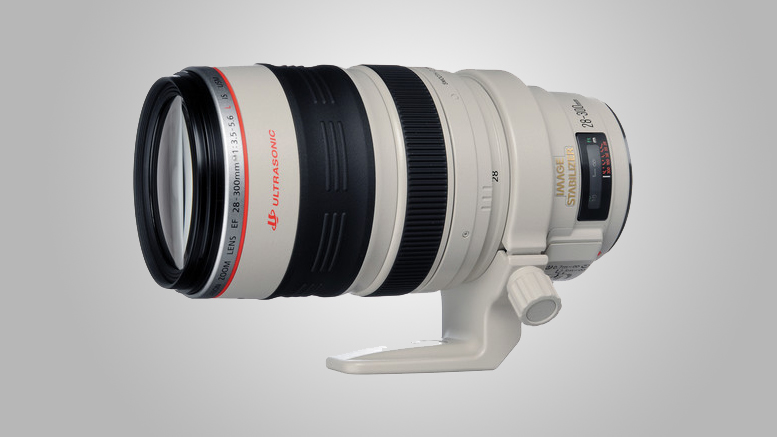 People often buy a superzoom for holiday and travel photography, the big advantage being that you can fit a single lens onto your camera and be prepared for pretty much any photo opportunity, without the need to carry around a bag full of lenses. Those lenses tend to be relatively compact and lightweight to keep them travel-friendly; by comparison, Canon's only full-frame superzoom is built like a battleship. It's not only very sturdy, but it's also huge, and a real heavyweight at 1,670g. To put that into perspective, it's more than twice as long and more than twice as heavy as Tamron's competing 28-300mm full-frame superzoom. On the plus side, image quality is extremely good for a superzoom, although there's still a little compromise in terms of sharpness and distortions, compared with using two lenses that have more modest zoom ranges to cover the same overall range. Ultimately, it's only worth considering for event photography, where you might need to quickly switch between wide-angle and telephoto shooting, and everything else in between, with a flick of a wrist.
Great-value option: Tamron 28-300mm f/3.5-6.3 Di VC PZD
It's much less expensive than Canon's full-frame superzoom, and much more manageable. Image quality is pretty good overall, but the autofocus system and overall build quality are comparatively basic.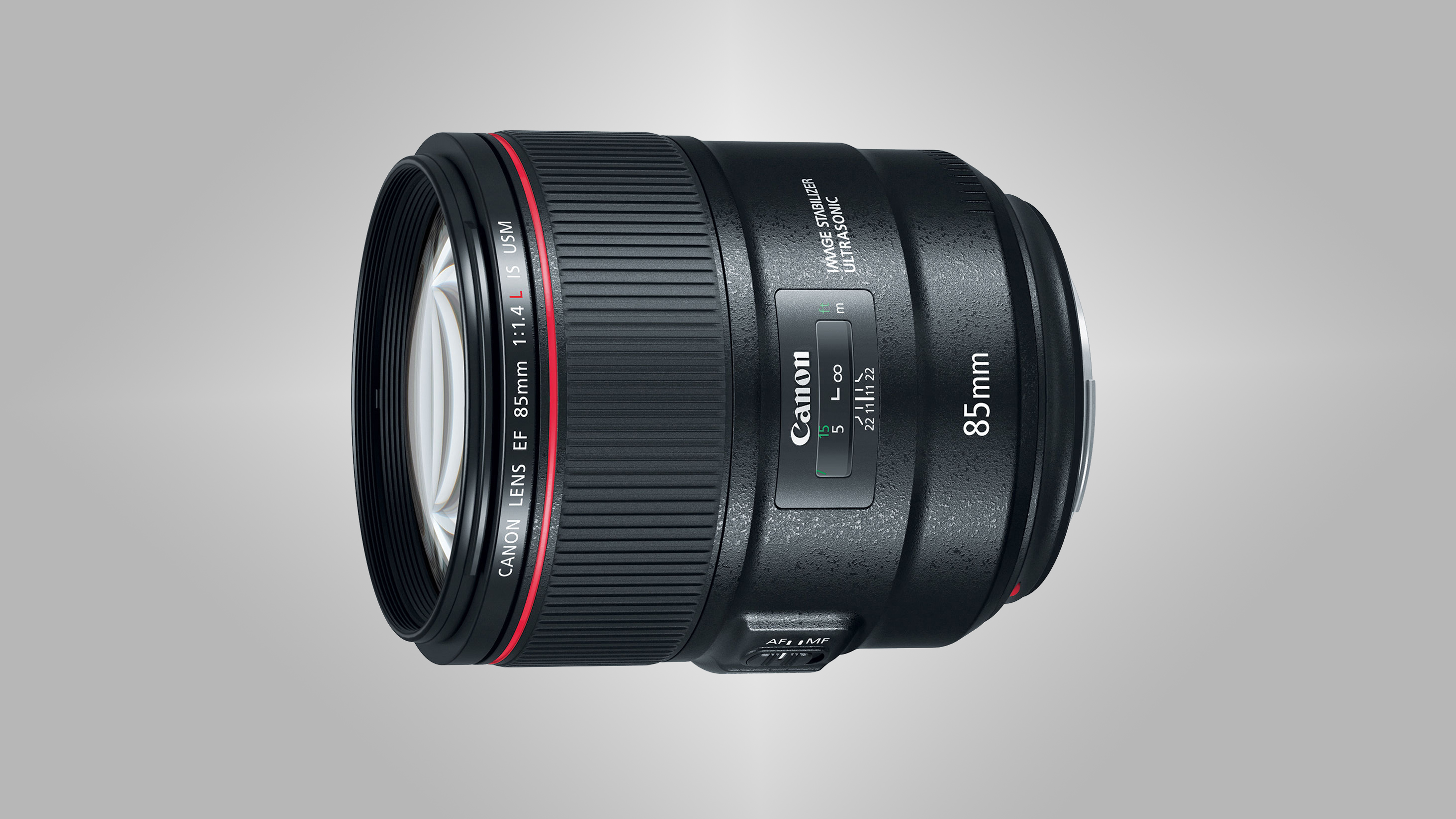 All too often you have to choose between a really fast aperture rating or image stabilization. For example, the Sigma 85mm f/1.4 Art is a great lens for portraiture, but it lacks stabilization. Then there's the even faster Canon 85mm f/1.2L, which goes overboard and is capable of a depth of field that's really too shallow for portraiture anyway. Alternatively, you can sacrifice two-thirds of a stop from f/1.4 and add stabilization, courtesy of the excellent Tamron 85mm f/1.8 VC USD. For the first time, however, Canon's new 85mm f/1.4L IS USM gives you everything. It offers brilliant build quality, stunning image quality, excellent all-round performance, and highly effective stabilization, complete with a fast f/1.4 aperture. Stellar sharpness is maintained right into the corners of the frame, even when shooting at the widest aperture. Equally importantly, the bokeh (quality of defocused areas) is as smooth, rich and creamy as you could wish for from a portrait lens.
Read our in-depth Canon EF 85mm f/1.4L IS USM review
Great-value option: Canon EF 85mm f/1.8 USM
This lens doesn't have the fastest aperture rating, and it's not stabilized. However, it's a really smart buy for a budget portrait lens, combining good sharpness and contrast wide-open with soft and dreamy bokeh.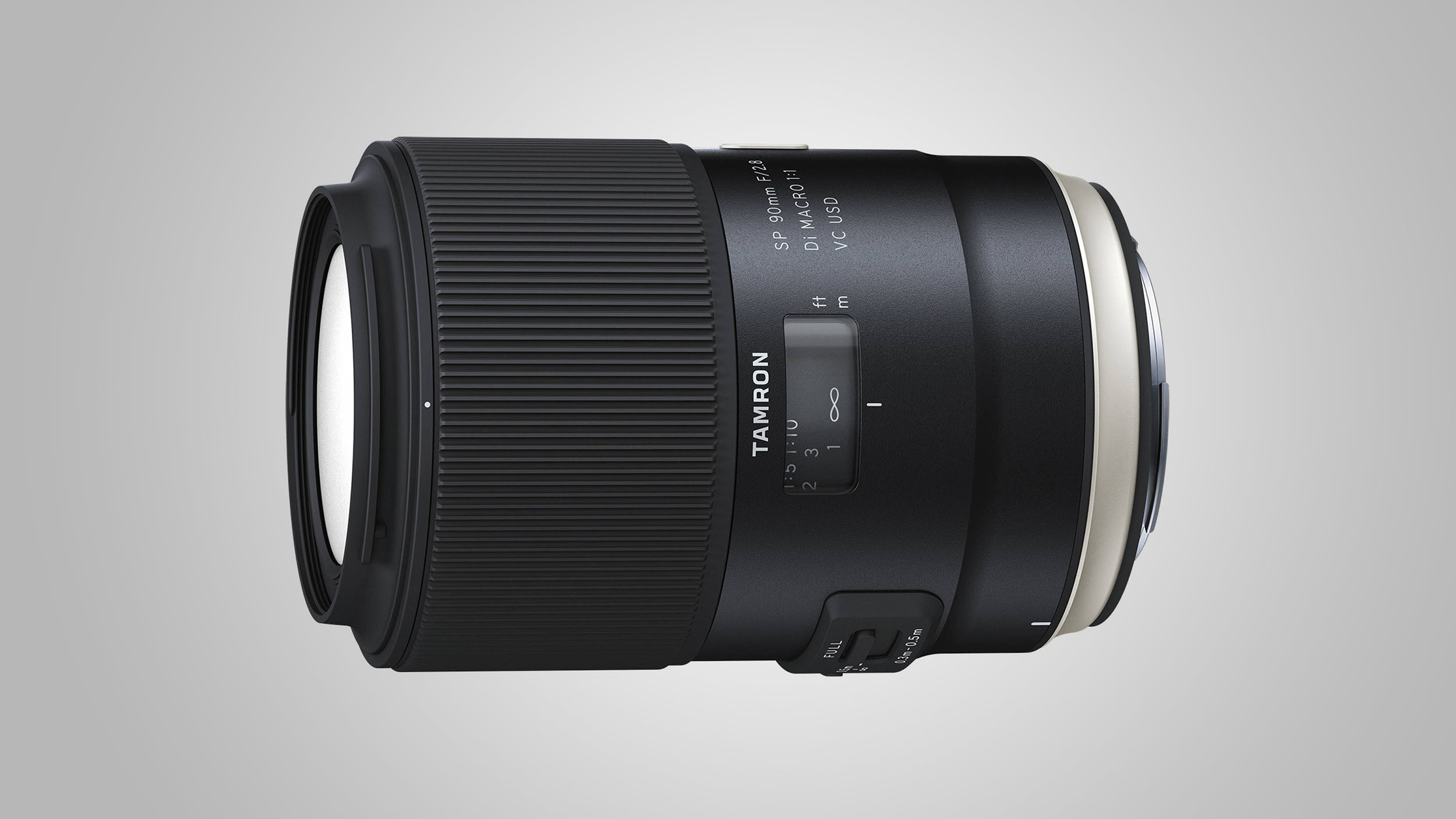 The latest edition of this Tamron classic undercuts Canon's range-topping EF 100mm f/2.8L Macro IS USM for price, yet goes toe-to-toe in terms of features and specifications. Indeed, the feature list includes a revolutionary hybrid optical stabilization system, which can counteract shift in the vertical and horizontal axes, as well as angular vibration or wobble – this was the Canon's main claim to fame when it was launched, prior to the arrival of the Tamron competitor. The hybrid stabilization performs better in handheld close-up shooting, but you'll still need a portrait lens for ultra-close macro shots.
Great-value option: Sigma 105mm f/2.8 EX DG OS HSM Macro
It lacks the Tamron's hybrid stabilization system and weather seals, but has refined handling and delivers superb image quality.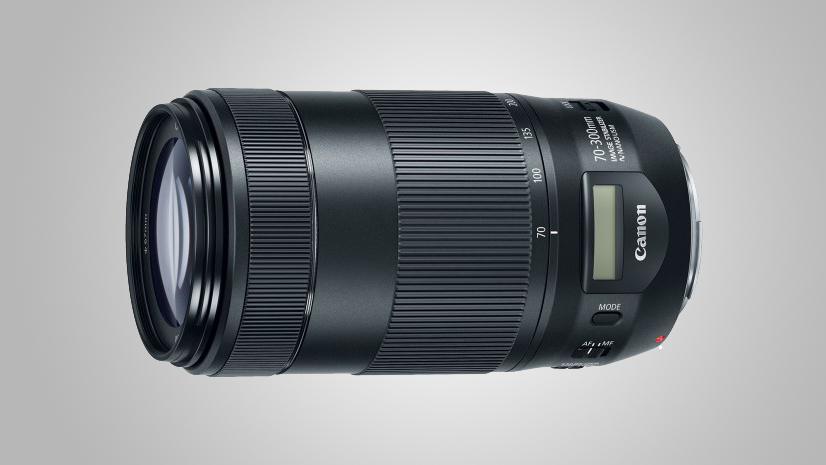 More than a decade old, Canon's original 70-300mm IS USM lens was really showing its age, with an outdated image stabilizer and sluggish autofocus that struggled to track moving subjects. Launched early in 2017, the Mk II edition represents a major revamp in terms of design philosophy, features and performance. Capturing sporting action and wildlife on the hoof is much easier, thanks to a new and much speedier Nano USM autofocus system that's also much quieter in operation; indeed, it combines all the best bits of ring-type ultrasonic and stepping motor systems in one hit. The image stabilizer gains a full extra stop in effectiveness with a four-stop rating and, perhaps most importantly of all, the revised optical path delivers sharper images with better contrast, especially when shooting with wide apertures in the mid-to-long section of the zoom range; this is an important factor for 'budget' telephoto zooms which have a relatively slow aperture rating, requiring you to often shoot at their widest apertures to maintain fast shutter speeds. And for a little extra trickery, there's a neat digital display on the lens barrel. It's a bit more expensive than Canon's previous 70-300mm lens, but a much better buy. One sore point is that the lens hood is sold separately, and the genuine Canon article is outrageously pricey in the UK at around £80 (it's just $45 in the USA).
Great-value option: Tamron SP 70-300mm f/4-5.6 Di VC USD
As well as being our top pick for APS-C format cameras thanks to its good performance and relatively low price, this Tamron is also a smart budget buy for full-frame bodies. It's not much cheaper than the Canon lens, but the lens hood is included in the price.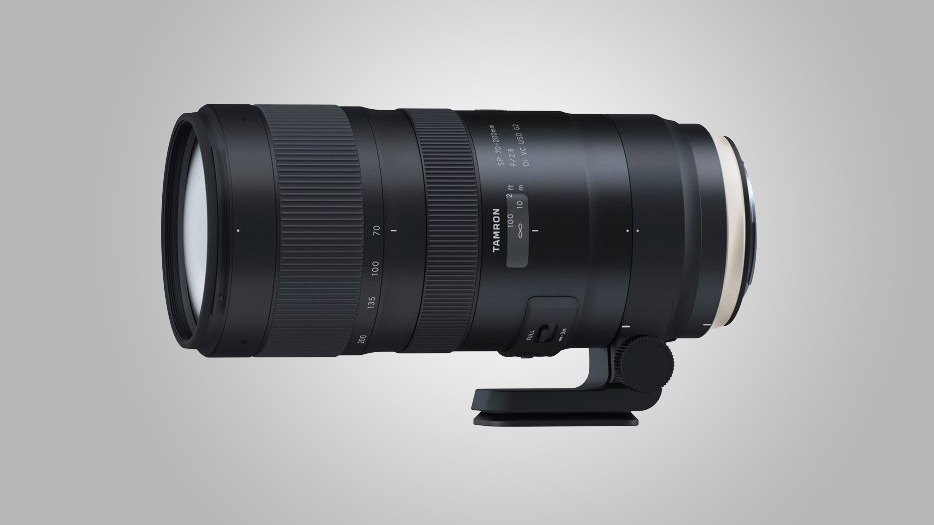 Canon's cream-colored telephoto lenses practically epitomize professional photography. More than just a style statement, the cream finish is intended to reflect sunlight and minimize the build-up of heat in big lenses that have a large surface area. Unfazed, Tamron's 70-200mm is back in black, but it's nevertheless well suited to shooting in any weather conditions, come rain or shine, with a solid metal barrel, a full set of weather seals and a muck-repellent fluorine coating on the front element. It matches the legendary Canon EF 70-200mm f/2.8L IS II USM in most areas, and beats it in others. Autofocus performance is lightning-fast and deadly accurate, improving over that of the original Tamron. Image stabilization is simply the best in class for this type of lens, with 5-stop effectiveness and three modes to choose from, including static, panning, and a third option that applies stabilization only during actual exposures, making it easier to track erratically moving subjects. When it comes to image quality, there's virtually nothing to choose between this lens and Canon's finest.
Great-value option: Sigma 70-200mm f/2.8 EX DG OS HSM
The Sigma is significantly less expensive to buy than the Tamron G2 lens, and delivers very pleasing image quality along with rapid autofocus performance. However, it's not weather-sealed and the image stabilizer is less effective.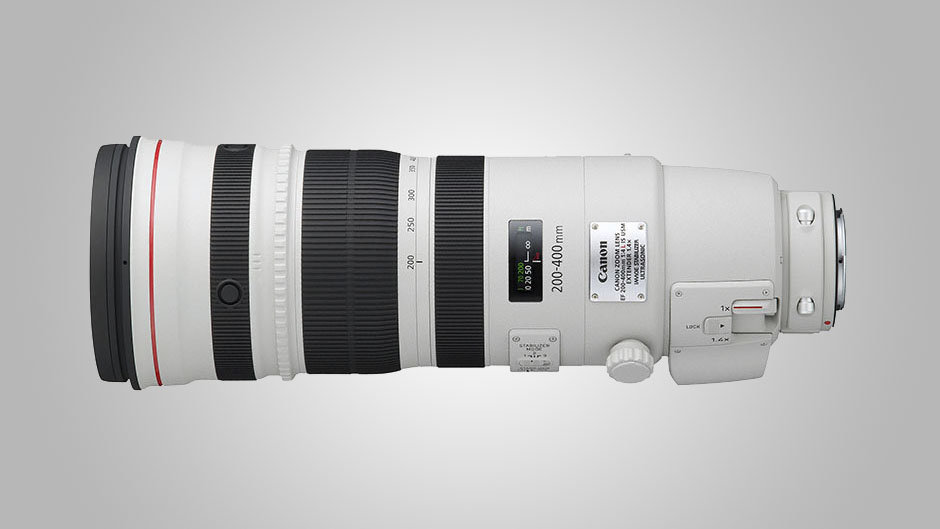 Canon announced this lens five years ago, and it's interesting to note that Nikon has only just bought a competing 180-400mm lens to the market. Both lenses have the same not-so-secret weapon for extending your telephoto reach, in the shape of a built-in 1.4x teleconverter, or 'extender' as Canon likes to call them. So what you have, essentially, is a top-flight 200-400mm zoom lens with a constant f/4 aperture, with the added bonus being that if you need more reach you can simply push a lever to engage the extender, boosting your focal length to as much as 560mm. As with any 1.4x teleconverter, there's a downside in that your widest available aperture narrows by an f/stop, in this case to f/5.6. It has to be said that, since Canon launched this lens, Sigma and Tamron have brought 150-600mm optics to the market which don't need an internal teleconverter, but we simply love this lens for its razor-sharp image quality and stunning all-round performance. It's 'the' telephoto zoom to buy if money's no object, although you'll also want to factor-in the price of a sturdy monopod –- this lens weighs the best part of 4kg.
Great-value option: Sigma 150-600mm f/5-6.3 DG OS HSM | S
Sigma's 150-600mm Sport lens is seriously good, overtaking the company's Contemporary edition for image quality, overall performance and build quality. It's nearly a kilo lighter than the Canon at 'just' 2,860g and much easier on the wallet.